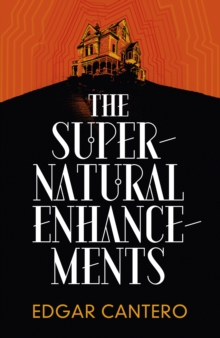 The Supernatural Enhancements
Hardback
Description
Everybody loves a ghost story...The heir to Axton House and his companion are delighted to find themselves living in one.
With it come nightmares, a secret society and a curse.
A ghost may soon be the least of their worries. Part ghost story, part cerebral mystery, this is a dazzling and wholly original supernatural adventure.
Information
Format: Hardback
Pages: 368 pages
Publisher: Ebury Publishing
Publication Date: 14/08/2014
Category: Fantasy
ISBN: 9780091956462
Free Home Delivery
on all orders
Pick up orders
from local bookshops
Reviews
Showing 1 - 3 of 3 reviews.
Review by passion4reading
16/06/2015
A., a 23-year-old European student, and his teenage associate and bodyguard Niamh (who, incidentally, is mute and only communicates via notepad; I know, just go with it) arrive in Point Bless, Virginia to take up residence in Axton House which A.'s distant, and previously unknown, relative Ambrose Wells has left him after committing suicide (of sorts) by jumping out of a third-floor window, but without opening it first. Meeting the neighbours, A. and Niamh soon learn that the house has a certain reputation for being haunted and, sure enough, before long A. appears to see a ghost in the bathroom and starts talking to it, while also beginning to suffer from violent and disturbing recurring nightmares and a physical disorder that necessitates a visit to the nearest doctor. Concerned for her charge's wellbeing, Niamh begins to install increasingly sophisticated audio and video recording devices to investigate.Written as a 20th-century variant of the epistolary novel (the plot is set in 1995), the story is told through extracts from A.'s diary and Niamh's notepad, transcripts of audio and video recordings, letters to A.'s aunt Liza, invoices, telegrams, journal articles and book extracts. The novel features a (possibly) haunted house and other supernatural enhancements, mysteries, a secret society, a treasure hunt, cryptography, science fiction, fantasy, horror and thriller elements, as well as a coming-of-age storyline, and reads as a hallucinatory mix of The Blair Witch Project and Edgar Allan Poe, with a hefty dose of X-Files mumbo jumbo thrown in for good measure. The author often writes with a knowing wink to other examples of a particular genre, and is effective in raising the tension degree by small degree, at least in the first part. As more information comes to light and the reader moves forward into the second and third parts, the plot unexpectedly changes direction several times, but there are also definite lengths where seemingly nothing happens, and the final pages, violent and with a surprise ending, left me feeling as if I had missed certain clues along the way – something a second reading might possibly remedy. In all not an entirely satisfactory read, even though highly original and engaging. I'm certain this will have readers divided in their opinions. Definitely worth a try.(This review was written as part of Amazon's Vine Programme.)
Review by jan.fleming
16/06/2015
A mesmerizing novel...what begins as a gothic ghost story soon evolves into a wickedly twisted treasure hunt in The Supernatural Enhancements, Edgar Cantero's wholly original, modern-day adventure.

When twentysomething A., the European relative of the Wells family, inherits a beautiful, yet eerie, estate set deep in the woods of Point Bless, Virginia, it comes as a surprise to everyone—including A. himself. After all, he never knew he had a "second cousin, twice removed" in America, much less that his eccentric relative had recently committed suicide by jumping out of the third floor bedroom window—at the same age and in the same way as his father had before him . . .

Together with A.'s companion, Niamh, a mute teenage punk girl from Ireland, they arrive in Virginia and quickly come to feel as if they have inherited much more than just a rambling home and an opulent lifestyle. Axton House is haunted... they know it...but the presence of a ghost is just the first of a series of disturbing secrets they slowly uncover. What led to the suicides? What became of the Axton House butler who fled shortly after his master died? What lurks in the garden maze – and what does the basement vault keep? Even more troubling, what of the rumors in town about a mysterious yearly gathering at Axton House on the night of the winter solstice?

Told vividly through a series of journal entries, cryptic ciphers, recovered security footage, and letters to a distant Aunt Liza, Edgar Cantero has written an absorbing, kinetic and highly original supernatural adventure with classic horror elements that introduces readers to a deviously sly and powerful new voice.
This turned out to be really cute in the end – it took me 60 or more pages to hook me in but I am glad I persevered.
"Eerie, puckish, and full of surprises…Cantero pays homage to Bram Stoker and H.P. Lovecraft and The Shining, but he's no less enamored of The X-Files, fax machines, and punk girls with dreads. The result is a propulsive, beguiling novel that is as easy to get swept up in as it is hard to describe."
Puckish – that is the exact word to describe this cheeky, clever, sly story. Stick with it and you won't be disappointed
Review by Carpe_Librum
27/08/2015
* Copy courtesy of NetGalley *The Supernatural Enhancements by Edgar Cantero has one of the best covers I've seen all year, and in this case I was relieved to find the novel definitely lived up to the cover. The novel contains excerpts from letters, journals, notebooks, audio recordings and various other sources and if you have the choice, I definitely recommend you choose to read the print copy. I read an e-book version and I just know that reading a hard back copy would have increased my overall enjoyment factor.The Supernatural Enhancements has it all: an inheritance, a secret society, coded messages, a group of rich people carrying out intellectual and scientific pursuits, code names and even a ghost.If you loved Mr Penumbra's 24-Hour Bookstore by Robin Sloan then you're bound to fall in love with The Supernatural Enhancements as well; particularly if you enjoy a good gothic ghost story with a modern twist.
Also by Edgar Cantero