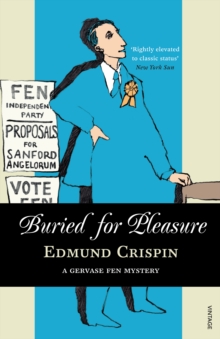 Buried for Pleasure
Paperback
Description
In the sleepy English village of Sanford Angelorum, Professor Gervase Fen is taking a break from his books to run for Parliament.
At first glance, the village he's come to canvass appears perfectly peaceful, but Fen soon discovers that appearances can be deceptive: someone in the village has discovered a dark secret and is using it for blackmail.
Anyone who comes close to uncovering the blackmailer's identity is swiftly dispatched.
As the joys of politics wear off, Fen sets his mind to the mystery but finds himself caught up in a tangled tale of eccentric psychiatrists, escaped lunatics, beautiful women and lost heirs.
Information
Format: Paperback
Pages: 176 pages
Publisher: Vintage Publishing
Publication Date: 01/10/2009
Category: Crime & mystery
ISBN: 9780099542124
Free Home Delivery
on all orders
Pick up orders
from local bookshops
Reviews
Showing 1 - 2 of 2 reviews.
Review by austcrimefiction
16/06/2015
Originally published in the 1940's the Gervase Fen mysteries are one of those rights of passage for crime lovers. Or at least they were in my house as I was growing up. Vintage Books have done us all an enormous favour in turning their attention back to some of the classic books - and this set from Edmund Crispin is a real job to behold. Now I have read a lot of these books before, but the chance to reread them, without having to rely on falling on fragile old copies in second-hand bookshops is a joy.And these are still very good crime stories. Slightly eccentric in that vaguely bats sort of what-ho English style, they are built around a good solid foundation of a problem and a solution, no matter how odd the methodology might seem these days.They are ultimately extremely enjoyable books - and Gervase Fen is a wonderfully eccentric, but extremely alert British investigating sort of chap - and I cannot recommend them highly enough - either as a reread or as a new experience if you're new to these classic English crime books.
Review by CatyM
16/06/2015
Professor Gervase Fen becomes bored of academia and decides to stand for parliament, but when he arrives in the sleepy country town at the heart of his constituency to start campaigning, he discovers it to be entangled in a web of blackmail and murder.The mystery is quite entertaining but not very mysterious: when Fen and the man from Scotland Yard had an esoteric, 'It is obvious, isn't it?' discussion about the culprit, I suspect I was supposed to think, 'No, it isn't,' and spend the next six chapters confused, not correctly deduce the culprit and agree with them.However, despite the unmysterious mystery, this is a very entertaining book: the characters are strong and the prose is rich and fluid. The comic touches usual to Crispin are all there, from the rector's poltergeist to the homing pig living at the pub (rather like a homing pigeon, but eats a lot more), and from the peculiarities of the escaped 'lunatic' to Fen's discovery that politics is much less fun than he expected.