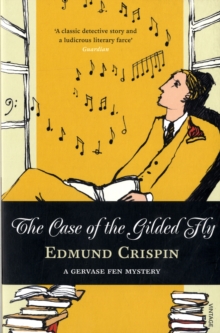 The Case of the Gilded Fly
Paperback
Description
This is a vintage murder mystery. As inventive as Agatha Christie, as hilarious as P.G.
Wodehouse - discover the delightful detective stories of Edmund Crispin.
Crime fiction at its quirkiest and best. Yseut Haskell, a pretty but spiteful young actress with a talent for destroying men's lives, is found dead in a college room just metres from the office of unconventional Oxford don and amateur detective, Gervase Fen.
The victim is found wearing an unusual ring, a reproduction of a piece in the British Museum featuring a gold gilded fly but does this shed any light on her murder?
As they delve deeper into Yseut's unhappy life the police soon realise that anyone who knew her would have shot her, but can Fen discover who could have shot her?
Erudite, eccentric and entirely delightful - Before Morse, Oxford's murders were solved by Gervase Fen, the most unpredictable detective in classic crime fiction.
Information
Format: Paperback
Pages: 208 pages
Publisher: Vintage Publishing
Publication Date: 01/10/2009
Category: Crime & mystery
ISBN: 9780099542131
Free Home Delivery
on all orders
Pick up orders
from local bookshops
Reviews
Showing 1 - 1 of 1 reviews.
Review by pgmcc
16/06/2015
The Case of the Gilded Fly was first published in 1944 and the story is set in wartime Oxford. Author Edmund Crispin, real name "Robert Bruce Montgomery", graduated from Oxford in 1943 and it is obvious his experience in that centre of learning was plied into the pages of this book.The character, "Gervase Fen", is an Oxford don and is the amateur sleuth in this, the first of nine Gervase Fen mysteries written by Crispin.Rehearsal and performance of a new play provide the focus for the murder mystery and many colourful and intriguing actors, actresses and others associated with the play populate this novel.Overall I enjoyed the book and I believe it will entertain those who favour murder mysteries that include a bit of humour. I must, however, add a word of caution. Edmund Crispin was obviously a very knowledgeable chap and he wanted to let people know that he was a very knowledgeable chap. This manifested itself in several ways.Firstly, Gervase Fen considers himself to be intellectually superior to most people and is forever alluding to literary and musical works that I would suggest the majority of people would have to look up to appreciate the significance of the reference fully. I believe Crispin identified with this character.Secondly, Fen uses many words that will also require looking up in a dictionary; at least I had to look them up.Thirdly, and this was blatant teasing, there is a character named "Nigel" who is used as the reader's eyes and ears into the mystery. Fen frequently turns to Nigel and jibes him for not having yet worked out who the murderer is. In this way Crispin is telling the reader that he is the smarter and that without his brilliance the poor dullard of a reader will never find out the solution to the mystery.Fourthly, as one would expect in a golden age murder mystery, the police inspector is portrayed as rather stupid and not a match for Fen's obviously superior mind.Despite these elements of showing-off by Crispin the book is entertaining and there are many quotes that I have underlined and will reference time and again.I may not read all eleven Gervase Fen mysteries, but I will read one or two more.