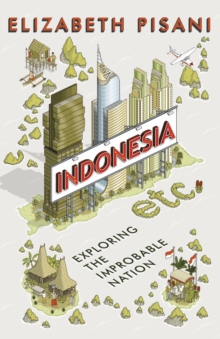 Indonesia Etc. : Exploring the Improbable Nation
Hardback
Description
Where on earth can you take tea with a corpse, go hunting for whales, bunk down in a sulphurous volcano and incur the wrath of a crocodile whisperer?
For encounters with the unexpected, look to Indonesia.
In 1945, Indonesia's declaration of independence promised: 'the details of the transfer of power etc. will be worked out as soon as possible.' Still working on the 'etc.' seven decades later, the world's fourth most populous nation is now enthusiastically democratic and riotously diverse.
Over 65 million Indonesians use Facebook, though 80 million live without electricity.
It is one of the richest and most enchanting countries on earth, but is riddled, too, with ineptitude and corruption.
Elizabeth Pisani, who first worked in Indonesia 25 years ago as a foreign correspondent and came back a decade later as a medical researcher, set out in 2011 to rediscover its enduring attraction, and to find the links which bind together this impossibly disparate nation.
She travelled for over a year, covering 13,000 miles by land and sea, dropping in on local potentates and staying with farmers and fishermen, and nomads and nurses, often on islands too small to appear on a map. In Indonesia Etc., Pisani weaves together the stories of Indonesians encountered on her journey with a considered analysis of Indonesia's recent history, corrupt political system, ethnic and religious identities, stifling bureaucracy and traditional 'sticky' cultures.
Fearless and funny, she gives a compelling and sharply perceptive account of a captivating nation.
Free Home Delivery
on all orders
Pick up orders
from local bookshops
Reviews
Showing 1 - 1 of 1 reviews.
Review by DramMan
27/08/2015
An account of the author's travels, far and wide, through a teeming, diverse nation that has made barely a mark on the wider world. Elizabeth Pisani, through her knowledge, experience and skill, is able to get beneath the skin of the nation, relating to a wide variety of people and building up a mosaic picture of e developing country. Interesting but strangely it does not enthuse me to visit, particularly.