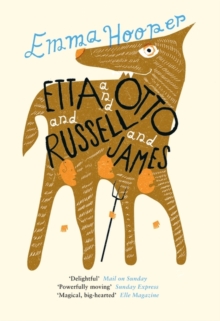 Etta and Otto and Russell and James
Hardback
Description
"Writing that easily equals that of the Booker-winning Richard Flanagan...[and] as readable and gripping as any thriller." (The Times).
I've gone. I've never seen the water, so I've gone there. I will try to remember to come back. Etta's greatest unfulfilled wish, living in the rolling farmland of Saskatchewan, is to see the sea. And so, at the age of eighty-two she gets up very early one morning, takes a rifle, some chocolate, and her best boots, and begins walking the 2, 000 miles to water.
Meanwhile her husband Otto waits patiently at home, left only with his memories.
Their neighbour Russell remembers too, but differently - and he still loves Etta as much as he did more than fifty years ago, before she married Otto.
Information
Format: Hardback
Pages: 288 pages
Publisher: Penguin Books Ltd
Publication Date: 29/01/2015
ISBN: 9780241003329
Free Home Delivery
on all orders
Pick up orders
from local bookshops
Reviews
Showing 1 - 2 of 2 reviews.
Review by pamjw
27/08/2015
Etta has gone for a walk. To see water. Except the sea is over 3000km away, and Etta is in her eighties. Yet walk she does, along the way making friends with James.Her story of walking is interwoven with the story of Otto and Russell and James; their individual stories and what brought them all together. As Etta journeys, Russell and Otto make their own personal journeys. This is a story of love, of endurance, of hope and of overcoming.This story is not unlike The Unlikely Pilgrimage of Harold Fry, but doesn't have quite the same colour of that book. It is, however, a quite good story in it's own way, though quite disjointed - and with the inevitable ambiguous and unclear ending!
Review by SandDune
27/08/2015
I heard this book recommended on one of the book programmes on Radio 4 and liked the sound of it. And then I heard it described as the new Unlikely Pilgrimage of Harold Fry and I started to have doubts, as I didn't like Harold Fry very much, but much to my surprise I liked E&O&R&J a great deal. The book does have one thing going for it that Harold Fry did not, in that it is set in a country other than the one in which I live, and deals with people who have lived a very different sort of life than the one in which I am familiar. When this sort of whimsical, almost magical, book is set too close to home I find that reality usually intervenes, no matter how hard I try to keep it out, and it diminishes my enjoyment. Whereas a setting on the prairies of Saskatchewan - well anything could happen there for all I know - if the author says there are talking coyotes, then I'm more than happy to believe in them. Etta sets out one morning on foot to see the sea, which she has never seen. But the coast of Nova Scotia is thousands of miles away and Etta is eighty-two years old and in the early stages of dementia. She carries a note with her at all times to remind her of who she is and where she comes from. Behind her she leaves her husband of over fifty years, Otto, and his best friend Russell, who has been in love with her for just as long. As Etta gets further and further east she is joined by James, the talking coyote of the title, but whether he is real or a product of Etta's increasing confusion is unclear. Otto too must go on a metaphorical journey of his own as he learns to cope without Etta, and these sections, as he learns to bake and to care for his new guinea pig were some of my favourites in the entire book. But alongside this story of Etta and Otto's old age is the story of their youth more than sixty years previously, when Otto and Russell were growing up on their families's farms in rural Saskatchewan, and Etta arrived as the new teacher at the one room schoolhouse.I'm not quite clear why I enjoyed this book so much. It certainly managed to be a moving fable without becoming overly sentimental. And I can feel the pull of the sea, so even a very long walk to see can seem like a good idea at times! So strongly recommended.
Also by Emma Hooper