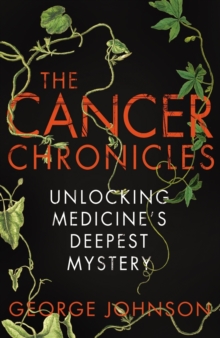 The Cancer Chronicles : Unlocking Medicine's Deepest Mystery
Hardback
Description
When the woman he loved was diagnosed with a metastatic cancer, science-writer George Johnson embarked on a journey to learn everything he could about the disease and the people who dedicate their lives to understanding and combating it.
What he discovered is that a revolution is now under way - an explosion of new ideas about what cancer really is and where it comes from.
He combs through the realms of epidemiology, clinical trials, laboratory experiments and scientific hypotheses, to reveal what we know and don't know about cancer, showing why a cure remains such a slippery concept. His luminous accounts describe tumors that evolve like alien creatures inside the body, paleo-oncologists who uncover petrified tumors clinging to the skeletons of dinosaurs and ancient human ancestors, and the surprising reversals in science's comprehension of the causes of cancer, with the foods we eat and environmental toxins playing a lesser role.
Perhaps most fascinating of all is how cancer borrows natural processes involved in the healing of a wound or the unfolding of a human embryo and turns them against the body. Throughout his pursuit, Johnson illuminates the human experience with elegiac grace, bearing witness to the punishing gauntlet of consultations, surgeries, targeted therapies and other treatments.
Provocative and intellectually vibrant, The Cancer Chronicles will challenge everything you thought you knew about the disease - and provide hope for tomorrow and the future.
Information
Format: Hardback
Pages: 304 pages
Publisher: Vintage Publishing
Publication Date: 29/08/2013
Category: Oncology
ISBN: 9781847921666
Other Formats
Paperback from £6.85
EPUB from £5.49
Free Home Delivery
on all orders
Pick up orders
from local bookshops
Reviews
Showing 1 - 1 of 1 reviews.
Review by wyvernfriend
16/06/2015
This was one of the easiest books on cancer for me to read. I found it informative and in certain ways comforting. The concept that there's more cancer these days because we're not dying from other diseases and that there are dinosaur skeletons with signs of cancer.I was a cancer patient, I was lucky, I responded in a textbook fashion to chemotherapy regime I was put on. My lottery ticked may have been stamped by the glandular fever I had earlier in my life (apparently all patients who have Hodgkins Lymphoma had glandular fever but not all people who get glandular fever get Hodgkins), by the genetics that link geeks in our family with cancer (stomach - grandfather; liver - uncle) or the environmental issues with having worked late shifts and living for a few years in a bustling city centre. Whatever happened I had cancer, some books make me very stressed but this book reasured me that there are people working on this and trying to find solutions to ensure that future generations won't suffer from this.Through the science he also weaves the story of his wife's cancer. Her treatment and the aftermath and the afterword including his brother's cancer. It's touching in parts and you can see his path to try to understand this while his wife is going through all the trauma of treatment and testing and heartbreak. You can see how he's trying to understand this and trying, in the face of a situation where he has no power or agency over this thing that's happening.I found it a compelling read and would recommend it to almost everyone.