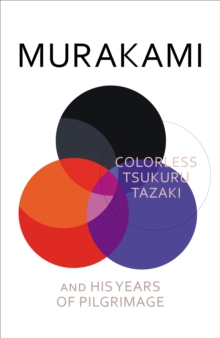 Colorless Tsukuru Tazaki and His Years of Pilgrimage
Hardback
Description
This is a mesmerising mystery story about friendship from the internationally bestselling author of Norwegian Wood and 1Q84 Tsukuru Tazaki had four best friends at school.
By chance all of their names contained a colour. The two boys were called Akamatsu, meaning 'red pine', and Oumi, 'blue sea', while the girls' names were Shirane, 'white root', and Kurono, 'black field'.
Tazaki was the only last name with no colour in it. One day Tsukuru Tazaki's friends announced that they didn't want to see him, or talk to him, ever again.
Since that day Tsukuru has been floating through life, unable to form intimate connections with anyone.
But then he meets Sara, who tells him that the time has come to find out what happened all those years ago.
Information
Format: Hardback
Pages: 304 pages
Publisher: Vintage Publishing
Publication Date: 12/08/2014
ISBN: 9781846558337
Free Home Delivery
on all orders
Pick up orders
from local bookshops
Reviews
Showing 1 - 5 of 6 reviews.
Previous | Next
Review by Eyejaybee
16/06/2015
I had been waiting for this book for quite some time, and even deferred reading it so that it would be not merely the 100th book I have read this year but also the 4000th book I have read since starting my list back on 1 January 1980. I have had my fingers burnt in the past, looking forward with gleeful anticipation to books which, in the event, have proved to be disappointing beyond measure. Still, I was pretty confident that Murakami would deliver, and he did, magnificently. During his teenage years growing up in the city of Nagoya Tsukuru Tazaki became very friendly with four other youngsters (two men and two women), and they gradually all became inseparable. By coincidence, all of the other four had names which included a colour, and in occasional moments of depression Tsukuru wondered whether he was lacking in any natural brightness or vigour.When the group come to go to university the other four all decide to stay in Nagoya, but Tsukuru had always dreamt of building railway stations, and went to study in Tokyo. When he returned home at the end of the first semester he is told by the others that they don't want to see him again, or have anything further to do with him. They offer no explanation and, though he is stunned by the announcement, Tsukuru accepts the situation.Now, sixteen years later, Tsukuru is working as a railway engineer and has a beautiful girlfriend, Sara. He tells her about the abrupt cessation of his strong friendship with the other four, and she advises him to try to discover what had caused the abrupt severance.As ever, Murakami, being a master at suspending his readers' disbelief, makes everything seem immensely plausible. Tsukuru is an odd but deeply empathetic character, with a charming lack of self-delusion.Though the book lacks the excitement and the constant sense of a huge surprise just around the corner that peppered 1Q84, this book is no less gripping. My only disappointment was that it was over so soon. Ah well, I will just have to wait another four of five years for the next one!
Review by missizicks
16/06/2015
I am biased because I love the way Murakami writes, but I thought this book was wonderful. It has been a while since I have devoured a book in a single day, but once I started, I couldn't put it down for long. There is a restfulness to Murakami's prose, like being in a dream and waking up feeling fully refreshed. I found each of the characters well drawn, even the cipher-like Sara. I loved the slow exploration of the relationship between the five friends and the sense of solitude found even in a tight knit circle. Murakami seems to understand that, no matter how close we grow to other people, we are never fully known. Not even to ourselves. I thought the ending perfect, with Tsukuru at a sort of peace, accepting of what might come next. There is a Zen feeling about the ending. Enlightenment has come at last. What I like best about Murakami's works is the way he presents a story as a snapshot of someone's life. Just as we can't possibly know everything about the people we encounter in real life, just as some threads remain loose in reality, so Murakami doesn't fully close the circle of his tales. But it's never dissatisfying.
Review by shelleyraec
16/06/2015
Haruki Murakami in a Japanese author best known in western culture for the 2011 success of his epic dystopian novel,1Q84. Colorless Tsukuru Tazaki and His Years of Pilgrimage is his highly anticipated newest title.Colorless Tsukuru Tazaki and His Years of Pilgrimage is the story of a man who has never really recovered from being inexplicably exiled by a group of close friends he met in high school. Drifting through his life, engineer Tsukuru is now in his mid thirties, single and largely friendless, until he meets a woman who encourages him to confront his painful past.Throughout Colorless Tsukuru Tazaki and His Years of Pilgrimage, Murukami explores the themes of identity, friendship, alienation and mental health. Tsukuru views himself as having; "…no personality, no defined color. [With] nothing to offer to others…like an empty vessel", and as such feels disconnected from other people and destined to be alone. This feeling can be traced back to the brutal abandonment of his friends and to redefine himself Tsukuru must resolve the lingering hurts and resentments.I thought the symbolism in the novel was fairly heavy handed and the dream slips didn't always make sense to me. I didn't find the writing particularly special though I found it more accessible and grounded than I was expecting.I really wasn't sure what to expect from Colorless Tsukuru Tazaki and His Years of Pilgrimage, not having read Murakami previously though I have read plenty of opinions about several of his earlier works, but I'm pretty sure this wasn't quite it. Essentially this seems to me to be lad lit (think Nick Hornby), perhaps given gravitas primarily because the protagonist, and the author, is Japanese. Don't get me wrong, I enjoyed the story of Tsukuru's journey to make peace with his past and redefine his sense of self, but I was largely underwhelmed by the whole thing.
Review by peterveen
16/06/2015
A book of deceptively woven interconnections between the level of everyday life and deeper levels of unrealized dreams and glimpsed other realities. Vintage Murakami: simple language describing things just out of reach.
Review by Estramir
16/06/2015
Murakami's introduces the central path of the story early. Tsukuru's friends abandon him without explanation and, like him we are left wondering why. From there the author explores the nature of friendships, and how they provide the very structure that holds up our lives. The meaning of Tsukuru's life seems to be drained of all colour, the reader can't help but be sympathetic. As usual in Murakami's books, music plays a big part, but here it is more focussed, the whole story is entwined in the Liszt piano piece 'Le mal du pays'. Tsukuru finally gets some answers, but is it enough to bring some colour into his life? The narrative in this book is along the lines of 'Norwegian Wood' but for me at least, a vastly more interesting story and much more succinct.