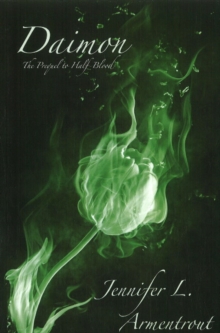 Daimon : The Prequel to Half-Blood
Paperback
Information
Format: Paperback
Pages: 86 pages, black & white illustrations
Publisher: Spencer Hill Press
Publication Date: 06/05/2011
ISBN: 9780983157250
Free Home Delivery
on all orders
Pick up orders
from local bookshops
Reviews
Showing 1 - 5 of 12 reviews.
Previous | Next
Review by ShelleyJax
16/06/2015
Daimon is a short novella released as a prequel to Half-Blood, which is the first book in The Covenant Series that releases September 2011.The story is told in the first POV by Alexandria (Lexie/Alex) Andros who is 17 years old, and mostly mortal, unlike her mother who is Hematoi, or pure blood. Alex is daughter of a Mortal and a Hematoi, or a god. They have been on the run moving from place to place, but the one negative I have is that the author doesn't actually say why they are running. Hopefully that will be explained in Half-Blood.It has been 3 years since she has been around the Hematoi world. She is a descendant of the gods. As the story opens, she and her mother are living in Miami, Florida. Alex has god-given strength and speed that she learned while training to fight from the age of seven at the Covenant school. The Covenant is where children of the gods train to defend the Hematoi from beings like the Daimon: DEE-mun. Daimons thrive on aether —the essence of the gods- the very life force that runs through their veins. A Daimon is a pure-blood who has turned his/her back on the gods and become addicted to aether. The Book/Ebook officially releases today, May 10th 2011 by Spencer Hill Press. You can even read it for free! Can't be that! This is a wild ride of a story. Alex is one of those characters, to me, that you can't help but to cheer and feel for at the same time. She's gone through so much, and then goes even farther in order to survive after a brutal attack on her mother by the Daimons leaves her fleeing from Miami and heading for the Convenant in Tennessee where she believes she will be safe. Naturally, this story does it's best to whet your whistle while you are waiting to buy, borrow, or steal the next book in the series when it comes out in September.
Review by JamesterCK
16/06/2015
Review: After reading so much about Half-Blood and "patiently" waiting for it to be released (September, WHY do you have to be so far away??), we were all graced with Daimon, which is the prequel to Half-Blood. I knew Daimon was going to be a free eBook, but I chose to buy it for my Nook. I definitely was not disappointed!We are introduce to Alexandria "Alex" Andros, a half-blood. A half-blood is the child of a god and a mortal; they are very valuable because unlike pure-bloods, they can see daimons in their true form. For years Alex and her mom lived at the Covenant, with Alex training to one day fight the daimons. One day, however, her mom insists that they must run away and never come back. Alex has no idea why, but she trusts that her mom knows what is best for both of them.Alex certainly doesn't fit in well in the mortal world. She tries her best to fit in and act normal, but when you're a trained fighter and know of the true evil in the world, you view everything differently. I felt for her, because she desperately wants to return to the Covenant to continue her training and be with people who understand her. And to have no idea why you can never return to your friends would be tough to bear; obviously she can't talk to her mortal friends about her previous life. So basically she has to keep everything bottled up inside, and besides her mom she has no one to confide in. Her mom seemed like a very loving, caring person and I'm sure she had a very good reason for leading them away from that life - and I'm DYING to know why!Daimon was a great novella, plenty of action and humor throughout. It was like buying a full novel and reading the first few chapters then having it abruptly cut off. You turn the page thinking there must be more, PLEASE let there be more! But alas, we have to wait until September to buy Half-Blood to see what happens. I know some people don't like cliffhangers (and this one's a doozy, trust me), but it only adds to the suspense and makes you want to read Half-Blood that much more. Even if you aren't sure if you'll like it or not, what do you have to lose? It's FREE! Or if you're like me, support the author and buy the eBook ($0.99) or the paperback ($3.99). See above under the picture for the links. I promise, you won't be disappointed, so go check it out now!!My rating: 5/5 stars
Review by bookluvrmindy
16/06/2015
Woo! Hoo! I found a new fave and I only read the Prequel! OMG…this book had my blood pumping, I think I should have my blood pressure checked! And then bam, you leave me at that? AND now I have to sit here and wait to see if I can get an ARC to fulfill my fix! To make it even worse, if I don't get an ARC, I have to wait until September for the release date?This series is going to seriously ROCK! Alexandra (also goes by Alex and Lexie…I love that BTW), is the type of heroine I absolutely love in a series. She isn't afraid to run but if she is caught up in a split second moment, the fighter in her comes out.I'm going to call her Lexie because I like that name. Anyways, Lexie is a Half-Blood (Demi-God). Half-Bloods are trained at a young age to protect Pure-Bloods from daimons, the freaky, scary, looking' creatures!Lexie and her mother have been on the run for the last 3 years, taking her away from the only life she has ever known to live in the real world.My predictions is that Lexie isn't just a Half-Blood, there is something special about her and that is why her mom has had her in hiding for so long. I guess we will have to see! PLEASE DON'T MAKE ME WAIT!!!
Review by StaceyMacWrites
16/06/2015
Don't let the size of this novella fool you. If there is one thing Jennifer L. Armentrout did with Daimon it is pack this Prequel to Half-Blood with a whole lot of punch.When I noticed how few pages there were in Daimon I really did wonder, How much am I going to get from this? Very few prequel novellas have ever left me feeling satisfied and usually annoy me more than anything. More times then not I have found they are not a great representation of the Author's writing and usually turn me away from further reading. In the case of Jennifer L Armentrout and The Half-Blood Prequel, Daimon, the answer to that question is a lot!When Daimon first opens we are introduced to Alex followed by her mother. All in a short few pages time we are given a glimpse into the type of person Alex is and the struggles she endures fitting into a world she struggled to call home for three years despite the fact that she knew she'd never truly fit in. The dialog and brief explanations that pass between Alex and her mother act as a quick study guide version of who Alex and her mother are, who and what they should be, where they should have been living and what they left behind. The whole situation left tons of questions on the tip of my tongue and is extremely mysterious, but Jennifer L Armentrout quickly gave up just enough information to sedate my questions for the time being.Daimon is a novella with a point full of substance. Not only does Daimon draw us in and give us a sneak peek at what 2011 YA Debut Author, Jennifer L Armentrout, has to offer us, it gives us something to grasp onto and prepares us for the journey of Alex and those she is finds herself with at the end of Daimon.Fast paced, thorough, and extremely addicting, Daimon is a novella that is a must read. Just know, while Daimon left a satisifying and lingering taste on my tongue it is barely enough to tide me over until Half-Blood hits the shelves! Daimon truly is Flippin' Fabulous!
Review by MrsBoswellBooks
16/06/2015
Daimon is a short prequel to Half-Blood, the first book in Armentrout's Covenant series, due out in September. In Daimon, we are introduced to the main character of the series, Alexandria or Alex. She and her mother have been "on-the-run" for three years, living among mortals and pretending to be them when in fact, they are not. Alex's mother has never told her why they left the Covenant, only that she should never return.Unexpectedly, Alex and her mother have been found. Not by the Covenant, but by daimons. This is exactly what Alex has been trained for, or should have been training for. Now Alex finds herself returning to the one place her mother told her she must stay away from, the Covenant, for they are the only ones who can help Alex now... the only ones who can train her to fight the daimons like she was always supposed to.For being so short, Daimon is extremely action-packed. Alex finds herself fighting against foe that so far she has only ever had dreams of fighting. She's not quite ready for the real thing, the Covenant hasn't trained her properly. But she must survive and find them if she wants to receive the training.Alex is a great MC. She is spunky, snarky, funny and headstrong. She's the kind of girl to look danger in the eye and dare it to touch her. I enjoyed her sarcasm and witty retorts.Daimon happened to have a sneak-peek of the first chapter of Half-Blood. Here was are introduced to the infamous Aiden, owner of the storm-cloud-colored eyes. You get just enough of Aiden to begin feeling weak-in-the-knees and begging to read Half-Blood.Armentrout has superb writing skill and weaves a marvelous story. I'm preparing for Half-Blood to be even more action-packed, funny and swoon-worthy. I can not wait to read it, or the rest of this series. I believe Armentrout has a hit series on her hands. Get your hands on Daimon and then Half-Blood as soon as it comes out.
Also by Jennifer L. Armentrout | View all