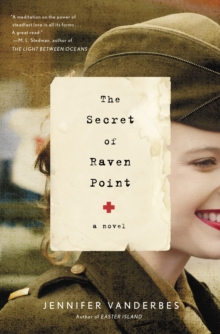 The Secret of Raven Point : A Novel
Hardback
Description
1943: When seventeen-year-old Juliet Dufresne receives a cryptic letter from her enlisted older brother pleading for help, and then finds out he's been reported missing overseas, she lies about her age and volunteers as an army nurse to find him.
Shy and awkward, Juliet is thrust into the bloody chaos of a field hospital, living in a sprawling encampment north of Rome where she forges new friendships with her fellow nurses and is increasingly consumed by the plight of her patients.
One in particular, Christopher Barnaby, a deserter awaiting court martial, may hold the answer to her brother's fate-but the trauma of war has left him unable to speak.
Racing against the clock, Juliet works with an enigmatic young psychiatrist, Henry Willard, to heal Barnaby's psychic wound before the authorities take him away and any clues as to her brother's fate are forever lost.
Plunged into the horrifying depths of one man's combat memories, Juliet and Willard are forced to plumb the moral nuances of a so-called just war, and to face the dangers of their own deepening connection. Reminiscent of Pat Barker's Regeneration, The Secret of Raven Pointis a war saga capturing the experiences of soldiers after the battles have ended. And as few novels have done, it depicts the ravages of war through the eyes of a young woman.
In luminous prose, Vanderbes tells the story of one girl's fierce determination to find her brother as she comes of age in a time of unrelenting violence.
The Secret of Raven Pointis historical fiction at its best: haunting, heart-breaking, and ultimately uplifting.
Information
Format: Hardback
Pages: 320 pages
Publisher: Simon & Schuster
Publication Date: 01/02/2014
Category: Sagas
ISBN: 9781439167007
Free Home Delivery
on all orders
Pick up orders
from local bookshops
Reviews
Showing 1 - 5 of 7 reviews.
Previous | Next
Review by nomadreader
16/06/2015
The backstory: I previously loved Strangers at the Feast, so I was eager to read the latest novel by Jennifer Vanderbes.The basics: When her older brother and best friend goes off to fight in World War II, seventeen-year-old Juliet is devastated. Soon she receives a mysterious letter from him and discovers he's missing in action. Juliet lies about her age and enlists as an Army nurse, with the goal of getting as close to the front as possible so she can find answers about her brother's disappearance.My thoughts: Juliet is a character who intrigued me from the beginning, when we meet her working after school in the science lab. She's smart, driven, and young, and I was curious where life would take her. As she decided to join the war effort, it made sense:"But Juliet was growing increasingly certain of her intent to leave Charlesport; she did not want to be as Tuck had once described her--a girl who curiously opened every door but never walked through one."There's a timelessness to such girlhood dreams, and I was most curious how World War II would shape Juliet's life and choices. As the book went on, however, I became less engaged with the characters and their lives. The novel, with flashes of beautiful and poignant writing, turned into a rather ordinary war novel. Perhaps I'm reaching World War I and World War II fatigue, but The Secret of Raven Point failed to distinguish itself from other stories of smart, driven young women who head to the front.Favorite passage: "That was the arc of life, it seemed; the slow and grateful recognition of those who were, by chance or fate, simply with you."The verdict: Ultimately, I was disappointed. The Secret of Raven Point is a rather ordinary war novel. While Juliet was a fascinating character to root for, her story felt too familiar. While I appreciate that war itself isn't tied up neatly, I wanted more answers to the questions raised in this novel.
Review by pjhess
16/06/2015
A very compelling read about WWII. Story takes place in Italy about a young front line nurse trying to find out what happened to her brother who has been reported missing in action. A shockingly realistic portrait of the war and all its atrocities. A page turner from beginning to end and at the end I wanted more. Highly recommend.
Review by thewanderingjew
16/06/2015
The book essentially begins in 1941. The Japanese have just bombed Pearl Harbor and a wave of nationalism sweeps the United States. In a place called Charlesport, South Carolina, like in other cities, large and small, families gather round their radios listening to the news. Eligible men and women begin to come to the defense of their country, enlisting in the armed forces. Close friends and siblings, Juliette and Tucker Dufresne are in High School. She is shy, ashamed of a birthmark on her face. He is older, a high school senior and a football star. Tucker confides in his sister that he wishes to enlist and serve his country. This family is rather proud of his intentions, as others all over the country are proud of their sons and daughters, fathers and brothers, sisters and aunts. They have not yet witnessed the horrors to come and only experience the passion of their patriotism. Jules and Tuck have a special secret code that they use when they need brotherly/sisterly aid or protection, like simply making up an excuse to their parents for the unexplained absence, of one of them, etc. The sibling in need sends a note saying they are with the fictional Mrs. Fan, as a signal. When Tuck turns 18, and enlists. Jules writes everyday. Soon his letters home begin to dwindle. Finally, the family receives a letter stating that he is missing in action. They hold out hope that he will be found but are all too aware, by now, of the possibility that he will not return. Although Tuck had written Jules a letter a month before he went missing, it did not arrive until after they were notified. In his letter, he wrote that he was with Mrs. Fan, so she knew he needed help, but she had no idea how to find him, and wasn't even sure if he was still alive.When Jules graduated from nursing school in 1944, she was not yet 18, but because of the letter from her brother, she decided to alter her birth certificate and enlist. She wanted to try and find him; she hoped he was still alive. She went through the training and was shipped out to Europe. She requested the front so she could search for Tuck or at least find someone who knew what had happened to him. Young and immature, unprepared for what faced her, she was buoyed by her idealism.This is a wonderful story about a brother and sister's devotion, about family loyalty, about nationalism and also about the tribulations of war which makes all the glory pale in the face of its unexpected tragic consequences. War does not bring out the best in anyone. The author has captured, equally well, both the allure and the devastation of war. She has entered the minds of the injured soldier, the frightened in the foxholes who never envisioned what it meant to be shot at, to step on a mine, or to shoot the enemy. She shines a bright light on the bravery of the medical staff, selfless in their efforts to save their own. She has drawn a clear picture of the cruelty shown to soldiers who were "different", in a time when homophobia was not a dirty word. She has really drawn a reasoned picture of the cruelty and futility of war coupled with its tragic, useless cost of life and limb. I listened to this audio book using a new library app, called Hoopla. Unfortunately, there was no way to adjust the speed of the reader and that was often very distracting. It was the equivalent of watching water boil, and it took quite some time to get used to her pace.
Review by susan0316
16/06/2015
I really wanted to like this book because I read a lot of books about WWII but I didn't like the main character and I thought that there were too many loose ends that were not solved by the end of the book. I will try this author again but I just didn't like this book.
Review by nyiper
16/06/2015
This book will break your heart because although it takes place during World War II, it doesn't matter. Everything, today, is still the same, but in many ways much worse, in the way the countries of the world try and solve their problems---this was from the point of view about how terribly and unforgivably sad it is to try and heal the war wounded, only to send them right back in again. I loved the characters. The descriptions of the wounded were way beyond painful to read/listen to. I was listening to the audio and Susie Berneis as the reader was terrific.
Also by Jennifer Vanderbes