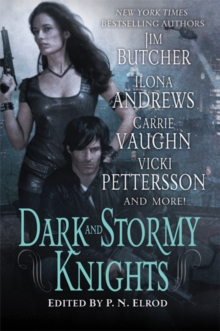 Dark and Stormy Knights
Paperback
Description
They're the last defenders of humanity, the lone wolf bad boys - and girls - who do dark deeds for the right reasons.
Modern day knights who are sexy, funny, mad, bad and dangerous to know because they do what most of us only dream about...and get away with it.
In this all-star collection, nine of today's hottest urban fantasy authors bring us original stories of supernatural, modern day knights that will have readers clamoring for more!
Information
Format: Paperback
Pages: 384 pages
Publisher: St Martin's Press
Publication Date: 02/08/2010
Category: Fantasy
ISBN: 9780312598341
Free Home Delivery
on all orders
Pick up orders
from local bookshops
Reviews
Showing 1 - 5 of 27 reviews.
Previous | Next
Review by krau0098
16/06/2015
All of these stories have something in common; they feature a "knight" someone who will go to heroic measures to protect innocents (or to make some money).The best of the bunch is Ilona Andrews "A Questionable Client"; this is a great story in and of itself and is a great sample of Andrew's writing style. Kate Daniels fans will love it too because it fills an important event that happened between Kate and Saiman. My second favorite was Caine's "Even a Rabbit Will Bite" loved the characters and the irony of the story.There were some stories that were entertaining but not outstanding. "Even Hand" by Jim Butcher give insight into John Marcone's character from the Dresden Files. "Rookwood and Mrs. King" by Saintcrow introduces some new characters that I hope she expands on in a series. "Shifting Star" by Vicki Pettersson gives you a story about Zoe's Tulpa, Skamar; unfortunately if you aren't reading Pettersson's Signs of the Zodiac series I think you will be totally lost as to the meaning behind this story.My least favorite of the bunch was Beknighted by Deidre Knight; there was a bit too much of a romance vibe going on here and the world wasn't described well...I thought it didn't really fit with the rest of the stories and the theme of this anthology.Overall a decent anthology. The Ilona Andrews story makes it worth reading. The other stories provide good samplings of some of the best Urban Fantasy authors out there. This is definitely urban fantasy and not PNR; which was awesome...it seems like so many anthologies tend towards paranormal romance (PNR). I personally got it from the library but it might be worth buying if you are a huge fan on one of the series represented. See below for a description and mini-review of each story.- A Questionable Client by Ilona Andrews (5/5 stars)We get to find out about that time Kate served as a bodyguard for Saiman. Action-packed filled with sharp humor; it was nice to have that story filled out some.- Even Hand by Jim Butcher (4/5 stars)A story from John Marcone's point of view. It was interesting to gain some insight into Marcone. The story was entertaining but over-all nothing mind-blowing.- The Beacon by Shannon K. Butcher (4/5 stars)A story about a hunter who assassinates Beacons that lure evil creatures called Terraphages to earth to destroy humanity. This was an entertaining story, I enjoyed the main character and there was a lot of action. I am curious as to what else Butcher has written, but not curious enough to immediately pick up books by her to read.- Even a Rabbit Will Bite by Rachel Caine (5/5 stars)Story about a retired dragon trainer and the young trainee that is supposed to take her place. I liked this story it was entertaining and ironic. I love how the story wrapped up but wasn't all that surprised at the ending. Overall a great story. I have read some of Caine's Weather Warden series and like her okay as an author in general.- Dark Lady by P. N. Elrod (3/5 stars)This is another Jack Flemming story. In general I am not a big fan of Elrod's Jack Flemming stories and this story was no exception. I've read some short stories with Jack and the first book in the Flemming series. This was another noir/gangster-type vampire story. It was okay and was well-written.- Beknighted by Deidre Knight (2/5 stars)An artist has to pay a steep price to free a knight from his prison. The world surrounding this story isn't very well defined and it is a bit confusing. This is more like a romance than anything else and was my least favorite of the bunch. There are parts of it that are a bit amusing and the idea is interesting...just not that well done.- Shifting Star by Vicki Pettersson (3/5 stars)If you have read all the Signs of the Zodiac book (which I have) then this story will be an interesting read for you. It features Skamar, Zoe's tulpa, and takes place sometime after the 4th book in the series. We get to learn more about Skamar as an individual and about what she is doing while Johanna is recovering. Kind of interesting. I think anyone who has not read the series will be totally lost though.- Rookwood and Mrs. King by Lilith Saintcrow (4/5 stars)Story about a woman named Amelia who comes to investigator Rookwood with a plea that he kill her already dead husband. Not much world-building but there was a lot of action and the characters were interesting. It would be great to see some books about Rookwood and Amelia in the future. Previously I have also read Saintcrow's Dante Valentine series and liked it.- God's Creatures by Carrie Vaughn (3.5/5 stars)Story from the point of view of Cormac the Bounty hunter from Vaughn's Kitty Norville series. Basically it just tells about Cormac going on a wolf hunt. It was okay and I enjoyed reading it, but it didn't add much to the characters for me and as a stand alone story it wasn't anything special.
Review by sandyg210
16/06/2015
I usually don't care for anthologies but I enjoyed this one. It was full of enjoyable stories from some of my favorite authors including Jim Butcher, P.N. Elrod, Rachel Caine, and Carrie Vaughn.I received this book through LibraryThing early reviewers.
Review by cissa
16/06/2015
P.N. Elrod has put together another great anthology. I have not been disappointed with any of the previous ones, and this one lived up to my expectations.All the stories were engaging and interesting, and featured a number of my favorite fun authors. I especially liked that many of the stories featured secondary characters from the novels- I loved getting more of a perspective on them- especially Cormac from Vaughn's "Kitty" series!So, I think these were good stand-alone stories, and even better when one is following a series and thus sees how they fit into it.And, hey, NO boring ones! Usually when i read anthologies, I expect one or 2 boring stories, but Elrod knows how to pick them.
Review by Ancientgirl
16/06/2015
Dark and Stormy Knights is an anthology of paranormal stories written by some of the most popular authors in the genre. In fact, I assume that most of its readers will be attracted due to the popularity of its contributors, rather than its theme, to which some of the stories seem only tangentially related. Which is fine; overall, it's a good selection of stories, some of which were more successful than others. Rather than reviewing every story individually, in this review I shall note some of the highlights of the collection as well as some of the stories that didn't work quite as well for me.An anthology with so many bright stars of its genre will attract both readers already addicted to it and those who are merely curious about it and want a taste before launching into full-length novels. The needs of the two groups can be difficult to balance, and for my money, more of the stories in Dark and Stormy Knights will appease the former than the latter. Many of the authors here already have successful paranormal series, and it is both understandable and expected that they return to these series for their short stories here. That's what the long term fans will want. However,when an author has spent several books developing his imaginary world, it can be quite difficult to explain in short story format, especially if you want to have any space left over for plot. That can make the stories daunting and less appealing to those not already fans. For example, Jim Butcher's "Even Hand" is a story taken from his popular Harry Dresden series, although not dealing with Harry himself. Having only read the first of the Dresden books, I don't really think I got as much out of this story as someone already addicted to the series, nor, if I hadn't already decided to read the books, do I think this short story would have convinced me. The same is probably also true of Vicki Pettersson's "Shifting Star;" I found it emotionally rich but it does include many concepts alien to those not familiar with the Zodiac series. On the other hand, I thought Ilona Andrews's "A Questionable Client" did an excellent job of explaining the magic-fickle setting of the Kate Daniels series, and also won me over by dealing with Slavic mythology, which felt refreshingly original. I've only read one of the Kate Daniels books so far, but am now convinced to pick up the series again.Aside from the Ilona Andrews story, my favorite story in the anthology was probably "Even a Rabbit Will Bite" by Rachel Caine, whose books I've been meaning to read but haven't gotten around to yet. As far as I know, this story is not part of any of Caine's series, but even if it is, this tale of modern dragon-slaying stands quite well on its own. My least favorite story was probably "Beknighted" by Deidre Knight, another new author to me. The story wasn't bad, but Knight writes paranormal romance and the language struck me as a bit florid. That was also the case with Lilith Saintcrow's "Rockwood and Mrs. King," but I found its plot more original than the Knight selection. Though one more reference to "glossy hair" might have moved me to defenestration. . .All in all, this anthology is worth reading especially if you are already a fan of any of its contributors. While visiting the world of your favorite series, you may be introduced to a new author or two!
Review by DonnerLibrary
16/06/2015
Dark and Stormy Knights is a collection of short stories by some great authors of paranormal and fantasy fiction. The book includes stories by Ilona Andrews, Jim Butcher, Shannon K. Butcher, Rachel Caine, P. N. Elrod, Deidre Knight, Vicki Pettersson, Lilith Saintcrow, and Carrie Vaughn. I had read books by a couple of these authors before but many of them were new to me.I really loved the majority of stories in this collection. I think short stories are incredibly difficult to write because there is not as much time to develop characters and do world building. The writing has to be very tight to fit all the information in that the reader needs to understand what is going on during this brief episode in the character's journey. All of the authors did a wonderful job with this. The stories that I enjoyed less were still very good and well written, they were just not to my reading taste as much as the others.Another thing that I find difficult with short stories is when they are written about a character who is also a main or supporting character in a series of novels. Sometimes I feel like I need to have read the other books to have the background to understand the story. This was not the case with the stories I read in this book. I've been wanting to read Ilona Andrews' Kate Daniels' series anyway and now that I've read "A Questionable Client" I'm moving those books up on the list. Although I've read Jim Butcher's books, I think I would have been able to follow "Even Hand" just as easily if I hadn't known Harry Dresden's story. "Dark Lady" by P. N. Elrod made me want to read more of The Vampire Files that my husband has sitting on the shelf.I think Dark and Stormy Knights is a fantastic collection of stories for paranormal and fantasy lovers. It introduced me to some new authors and now I want to read more!