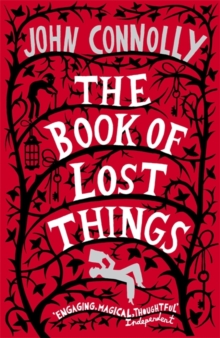 The Book of Lost Things
Paperback
Description
'Once upon a time, there was a boy who lost his mother ...' As twelve-year-old David takes refuge from his grief in the myths and fairytales so beloved of his dead mother, he finds the real world and the fantasy world begin to blend. That is when bad things start to happen. That is when the Crooked Man comes. And David is violently propelled into a land populated by heroes, wolves and monsters, his quest to find the legendary Book of Lost Things.
Information
Format: Paperback
Pages: 512 pages, bxw
Publisher: Hodder & Stoughton General Division
Publication Date: 05/04/2007
ISBN: 9780340899489
Free Home Delivery
on all orders
Pick up orders
from local bookshops
Reviews
Showing 1 - 5 of 10 reviews.
Previous | Next
Review by JustAGirl
16/06/2015
A delightfully dark, and occasionally laugh out loud, fairy tale from the man who writes the best, and creepiest, crime novels around. This is a story for kids so it's not as dark as his adult novels, but it's as properly dark as a kids story should be. The story of a boy who loses his mother and, in his grief, finds his way into another world, one full of elfs and knights and quests and such. What is particularly well done in this book is what happens in the real world, where the books in his room talk to each other, where he sees people from the other world, where it's never clear whether any of this is real and wgere there's a horror lurking that is far greater than anything in the magical world.
Review by devenish
16/06/2015
David,a twelve year old boy,who is living during the period of the Second World War is,through various reasons thrown into an horrific otherworld of Fairy tales.His journeys put him into contact with the stories and characters from this strange world.Do not expect to meet kind creatures from children's books here however.Instead you will come across Loups (wolfmen),Harpies,Trolls,The Huntress (particulally horrid,this one) and the worst of all The Crooked Man.Enjoy!
Review by ablueidol
16/06/2015
Which do you think will be read and savoured in 100 years time, the fairy stories of the Grimm Brothers with their roots in the old darkness of firelight nights or the latest Jodi Picoult about a life that the children of parents yet to be born will have no knowledge or interest in. Yet the same children when meeting the stories of world long faded even when written down by the Grimm Brothers will still be amazed and scared. Don't believe me? Well I do story telling in pubs to adults and have known an entire bar go quiet and listen intently as a story of woods, princes and monsters enfolds in their mind.It is from this deep well that John Connolly's The Book of Lost Things draws on as he tells the story of 12 year old David's losing fight to keep his mother and family he knows a alive. His anger and grief causes him blackouts and a wish for revenge as his father deals with grief by marriage and work. David discovers the presence of the Crooked Man who can move between the world of living and story. Books start talking to him and boundaries blur so that when his anger and that of his struggling step-mother collide it sets into train his explosive entry into land of story.Once there we meet traditional fairyland characters but from an adult and darker angle… Red riding Hood hunts out the wolf for sex and worse! It becomes clear that the adventures reflect David's fears and the choices he must make as he struggles to deal with his grief and anger. To make the wrong choices will leave worlds destroyed but so will the right ones as he learns that happy endings are for fairy stories. But as heaven is what we make it, his death when it comes is not the end of the story.This is not a children's story but an adult story about when childhood ends and what life is made as we grow up. Its portrait of David trying to keep his mother alive and his feelings made me cry in the first 10 pages such was the lyrical nature of the writing. The stories within stories are not distractions as some reviewers suggest but insights into the characters that David meets and his own feelings and choices that he has to make. It has lots of comic moments as well as the Snow White and communist dwarfs' episode shows. However, ultimately it's a story about growing up and letting go of illusions, which makes it very sad and poignant. So if it gets to be a film think David Lynch or Tim Burton rather then Disney and you are on the right track about the tone of the book. Recommend for an easy enjoyable and moving read.
Review by -Eva-
16/06/2015
I might as well admit that I'm a huge sucker for fairytales, and anyone who uses elements of fairytales in an innovative fashion will endear themselves to me. What I find particularly appealing about Connolly's story, though, is that it can read as a fantasy tale - in the Narnia tradition (although more gruesome) - or it can read as a very much adult story about a child who is forced to deal with grief and loss and the mechanisms and techniques subconsciously used to do that.Connolly draws his story from traditional fairytales (the grim Grimm-versions) and quite successfully uses Bruno Bettleheim's ideas (fairytales being vehicles to pass life-lessons and cautions on from generation to generation) in order to explain the main character's trials and tribulations.If I have one criticism, it is that in his eagerness to use all these fairytales, Connolly's story becomes a picaresque rather than a completely cohesive story, but that's mainly a personal peeve of mine and I wouldn't dock too many points for that. All in all, it's an engaging and at times truly heartfelt story about a young boy's struggle with the evils and horror of the scary place that is the adult world.
Review by souloftherose
16/06/2015
I picked this up in the library because I am strangely, yet irresistibly drawn towards books with the word 'book' in the title. John Connolly has written his own fairy tale/fable partly based on the fairytales we all know but with slight changes to the familiar stories. The result is that the book feels familiar when reading it in the way that fairy stories do. I guessed the ending before we got there but I don't feel that detracted from the book. It doesn't feel like the book is written to try and make the ending a surprise, in fact, the ending felt like it fitted, in the same way that the endings of other fairytales just fit. The story itself is about 350 pages and the author has added a further 100-odd pages at the end of my edition containing the original fairytales he references in the book (mainly The Brothers Grimm versions) and brief notes about the origins of these fairytales and the meanings he thinks they have.The story itself is set during WWII in Britain and follows a 12 year old boy, David, as he struggles to come to terms with the death of his mother and his father's subsequent marriage and new baby stepbrother. David has always loved books and as he becomes more unhappy with his family life he begins to hear the books whispering to him. One night, David hears his dead mother calling to him and as he follows this voice through his garden he finds himself in strange new land where myths and stories are real but strangely changed from the stories he knows. His only way to return to his own land is to seek the king of this strange world, who is known to keep his secrets in a mysterious book, the Book of Lost Things.This is a beautiful book, and feels wonderfully familiar when reading because of all the fairytales. Despite the fact that I've never read the book before it felt almost as if I were rereading a childhood favourite. It also reminded me a lot of two films, The Labyrinth and Pan's Labyrinth. It had a certain dark quality similar to Pan's Labyrinth.