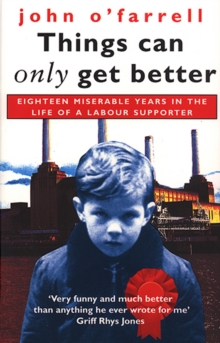 Things Can Only Get Better : Eighteen Miserable Years in the Life of a Labour Supporter, 1979-1997
Paperback
Description
Like bubonic plague and stone cladding, no-one took Margaret Thatcher seriously until it was too late.
Her first act as leader was to appear before the cameras and do a V for Victory sign the wrong way round.
She was smiling and telling the British people to f*** off at the same time.
It was something we would have to get used to.' Things Can Only Get Better is the personal account of a Labour supporter who survived eighteen miserable years of Conservative government.
It is the heartbreaking and hilarious confessions of someone who has been actively involved in helping the Labour party lose elections at every level: school candidate: door-to-door canvasser: working for a Labour MP in the House of Commons; standing as a council candidate; and eventually writing jokes for a shadow cabinet minister.
Along the way he slowly came to realise that Michael Foot would never be Prime Minister, that vegetable quiche was not as tasty as chicken tikki masala and that the nuclear arms race was never going to be stopped by face painting alone.
Information
Format: Paperback
Pages: 336 pages
Publisher: Transworld Publishers Ltd
Publication Date: 01/05/1999
ISBN: 9780552998031
Free Home Delivery
on all orders
Pick up orders
from local bookshops
Reviews
Showing 1 - 2 of 2 reviews.
Review by monachus
16/06/2015
Having canvassed at local elections myself, several of his campaign-trail anecdotes rang true.I found it was a real page-turner and, like Nick Hornby, read it in a single sitting.Ultimately it left me feeling disappointed. Perhaps that was the point, but politics doesn't end just because one becomes disillusioned. In the light of the ensuing nine years of Blair's government, there is the danger of thinking that everything had to be thus.There is no alternative is a battle-cry I never thought to hear from a Labour supporter!
Review by Oreillynsf
16/06/2015
I absolutely loved this book. What a great chronicle of the Thatcher years - that is if you weren't a fan of hers. O'Farrell has a deadpan style and an ability to recognize his own flaws as well as he does Dame Thatcher's. He so beautifully captures the time, and the seeming absurdity of her win after win - which I say not as a Thatcher hater but rather as someone who can see serendipity when it's this obvious. For a nonBrit reader such as me, reading this was analogous to how I imagine nonAmericans feel about two victories for Dubya. How ON EARTH did it happen? An excellent read right now as her death has created somewhat of a cottage industry in (re)analyzing her record. I think what I aprpeciated most of all was is ability to point out the Left's role in getting her elected again and again. When a movement has no vision or ideology, it shouldn't surprise us when the other side wins. When that movement gets a new story, as it did for better or for worse with Tony Blair, then the results are more in keeping with what one might expect.