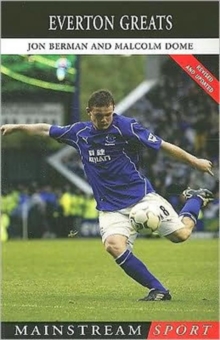 Description
Everton Football Club has long been among the aristocratic clubs on the English scene.
Its illustrious history is full of great players, as well as great characters.
This book presents the chance to find out what has happened to some of those great names. "Everton Greats" is a collection of interviews with the biggest names, past and present, at Everton FC, from the World Cup-winning Alan Ball to the Golden Vision himself, Alex Young.
The book spans the decades from the 1950s through to the "new breed", including the stars Wayne Rooney and Kevin Campbell.
There's an in depth look not only at high-profile ex-players like Andy Gray and Peter Reid, but also the less publicity-conscious personalities such as Roger Kenyon.
The players themselves are asked what made their time at Everton so special, and why - in may cases - they were in teams that underachieved.
The book also reveals what the players think of each other - and in some cases this is far from complimentary. And to bring everything up to date, it looks at the club as it is today - resurgent, revived and back on the glory trail.
Free Home Delivery
on all orders
Pick up orders
from local bookshops