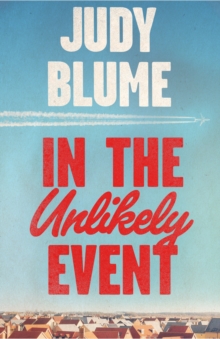 In the Unlikely Event
Hardback
Description
In 1987, Miri Ammerman returns to her hometown of Elizabeth, New Jersey, to attend a commemoration of the worst year of her life. Thirty-five years earlier, when Miri was fifteen and in love for the first time, three planes fell from the sky within three months, leaving a community reeling.
Against this backdrop of actual events in the early 1950s, when airline travel was new and exciting and everyone dreamed of going somewhere, Judy Blume weaves a haunting story of three generations of families, friends, and strangers, whose lives are for ever changed in the aftermath. The plane crashes bring some people closer together and tear others apart; they create myths and unlock secrets.
As Miri experiences the ordinary joys and pains of growing up in extraordinary circumstances, a young journalist makes his name reporting tragedy. And through it all, one generation reminds another that life goes on. Beautiful, gripping and deeply moving, In the Unlikely Event is an unforgettable novel from Judy Blume, one of America's most beloved authors.
Information
Format: Hardback
Pages: 432 pages
Publisher: Pan Macmillan
Publication Date: 04/06/2015
ISBN: 9781509801657
Free Home Delivery
on all orders
Pick up orders
from local bookshops
Reviews
Showing 1 - 3 of 3 reviews.
Review by shelleyraec
27/08/2015
As a young girl, I devoured everything written by Judy Blume, from Superfudge to Are You There God? It's Me, Margaret and Forever as well as her adult novels Smart Women, Wifey, despite the fact I wasn't yet even a teenager. I remember being excited when her third adult novel, Summer Sisters, was published in 1998 and seventeen years later we finally have a fourth and, Judy Blume herself confesses, her last, In the Unlikely Event.While the tone and style of Blume's writing remains remarkably familiar, the subject of this novel is quite different from what some may expect. Inspired by a series of passenger airplanes crashed in Elizabeth, New Jersey within a three-month period in 1951–1952, the author brings to life three generations of families, friends, and strangers, who are all profoundly affected by these events, either directly or indirectly.While Blume employs multiple points of view in the narrative it is teenager Miri Ammerman who has the strongest voice. Against the background of such frightening community tragedy, Miri struggles with the typical trials of adolescence, such as identity, friendship, family and first love. Meanwhile her Uncle Henry makes his name as the journalist who covers the incidents, her best friend, Natalie, is haunted by a plane crash victim, and an elderly man mourning his wife beds down on her grandmother's couch. The large cast may be off-putting to some readers but I felt the the varied perspectives enriched the narrative.Blume successfully brings to life the facts surrounding the New Jersey plane crashes, honouring the real life victims of the tragedies. She authentically evokes the era that heralded social change in America, exploring issues such as changing morality and political unrest.Written with genuine compassion and insight, and with finely drawn characterisation, In the Unlikely Event is an engaging story of life's ordinary and extraordinary events.
Review by gogglemiss
23/09/2015
This was an OK read, but I found the viewpoints of many characters with their various chapters too much to remember but the key character was Miri and she seemed to stabilise the story, throughout.
Review by AdonisGuilfoyle
27/01/2016
For the first third of this novel, I was worried that I had wasted my time waiting months on a library reservation because Judy Blume must have lost her touch since the iconic days of <i>Are You There God, It's Me, Margaret</i> and <i>Forever</i>. The story, based on the author's own teenage years in Elizabeth, New Jersey, during the 1950s, when three airliners crashed within three months, killing passengers and residents, almost writes itself, and yet Blume's 'fictionliasation' of events seemed clunky and simplistic to begin with. Told from the perspective of Miri, a young Jewish girl living with her single mother, grandmother and uncle, and Christina, the local dentist's receptionist, and interspersed with brief insights into the lives of some of those who perished, even the chapters seemed short and gimmicky, hopping from one character to another via newspaper reports and random snippets of dialogue.Ironically, when life in Elizabeth starts to fall apart, the narrative does start to come together. Miri learns a few unpalatable home truths, her best friend Natalie, daughter of the dentist, becomes obsessed with one of the crash victims, and Christina rushes headlong into the future. After struggling to read a chapter without falling asleep, I began to care about the characters and grow fascinated by the unlikely events that bind them all together. Fact is still stronger than fiction in this case, but I no longer regret making that reservation.