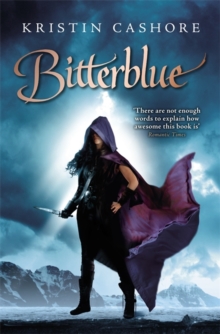 Description
The long-awaited companion to the New York Times bestsellers Graceling and Fire Eight years have passed since the young Princess Bitterblue and her country were saved from the vicious King Leck.
Now Bitterblue is the queen of Monsea, and her land is at peace. But the influence of her father, a violent psychopath with mind-altering abilities, lives on.
Her advisers, who have run the country on her behalf since Leck's death, believe in a forward-thinking plan: to pardon all of those who committed terrible acts during Leck's reign; and to forget every dark event that ever happened.
Monsea's past has become shrouded in mystery, and it's only when Bitterblue begins sneaking out of her castle - curious, disguised and alone - to walk the streets of her own city, that she begins to realise the truth.
Her kingdom has been under the thirty-five-year long spell of a madman, and now their only chance to move forward is to revisit the past. Whatever that past holds. Two thieves, who have sworn only to steal what has already been stolen, change her life forever.
They hold a key to the truth of Leck's reign. And one of them, who possesses an unidentified Grace, may also hold a key to her heart ...
Information
Format: Hardback
Pages: 576 pages
Publisher: Orion Publishing Co
Publication Date: 01/05/2012
Category: Fantasy
ISBN: 9780575097179
Free Home Delivery
on all orders
Pick up orders
from local bookshops
Reviews
Showing 1 - 1 of 1 reviews.
Review by infjsarah
16/06/2015
I thought this was a remarkable book. It deals with an unusual topic in fantasy - what happens after the big event, the big overthrow? And where is the balance between remembering the past and punishing its abuses and looking forward to a better future. And how do you change a political system when the people in the system were part of the abuse? If you remove every civil servant the government collapses but those civil servants were involved in the abuses. Where is the line drawn?It asks some interesting questions. This is not an action book or even really a romance. It looks at censorship and cover ups and guilt and reparations.It was slow to start but I was gripped after the first quarter. I am far from the target group of this book - being 40+. A teenager looking for action romance will be very disappointed. But a thoughtful mature teenager might like it a lot.