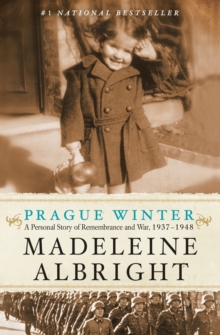 Prague Winter : A Personal Story of Remembrance and War, 1937-1948
Paperback
Description
By turns harrowing and inspiring, "Prague Winter" is Madeleine Albright's account of her early life from 1937 to 1948, a dozen years that witnessed the Nazi invasion of her native Prague, World War II, the Holocaust, the defeat of fascism, the rise of communism, and the onset of the Cold War.
Her experiences, and those of her family, provide a unique lens through which to view this tumultuous period in modern history.
Moving from the thousand-year-old Prague Castle to the bomb shelters of London, from the desolate prison ghetto of Terezin to the war councils of Churchill, Stalin, Roosevelt and Hitler, Albright reflects on her discovery of her family's Jewish heritage decades after the war, her Czech homeland's tangled history, and the stark moral choices faced by her parents, ordinary citizens, and the leaders of their generation.
Drawing on her memory, written reflections, newly-released documents, interviews with contemporaries, and other primary sources, she tells the story of how millions of ordinary citizens were ripped from familiar surroundings and forced into new roles as exiled leaders and foot soldiers, resistance figures and collaborators, victims and killers. Albright points out that the response to these life and death issues was often shaped by concepts familiar even to a child like Madeleine had been at the time: fear, trust, adaptation, the search for identity, the pressure to conform, and the difference between right and wrong.
As universal as it is deeply personal, Prague Winter offers a unique perspective on World War II, the relationship between generations, and the impact of time on our assessment of the truth.
Emotionally compelling and often startling in its frankness, this volume is a guide to the future through the lessons of the past, as seen through the eyes of one of the world's most respected and fascinating figures.
Information
Format: Paperback
Pages: 480 pages, 16-Page Color Insert
Publisher: HarperCollins Publishers Inc
Publication Date: 05/03/2013
Category: Memoirs
ISBN: 9780062030344
Other Formats
EPUB from £2.49
eAudiobook MP3 from £23.51
Free Home Delivery
on all orders
Pick up orders
from local bookshops
Reviews
Showing 1 - 3 of 3 reviews.
Review by BrokenTeepee
16/06/2015
This book was not what I was expecting. It was less a story of Mrs. Albright's memories during the events of WWII in her birth country of Czechoslovakia then it was the story of her father's experiences as a diplomat for the country before, during and after the War. It was, despite the slightly misleading subtitle very, very hard to put down. I must admit up front to an appalling lack of knowledge of Czechoslovakian history. This despite my mother's family coming from an area bordering Poland and what is now Slovakia. I have basic knowledge of WWII history and how it impacted Czechoslovakia but this book gave me an insider's knowledge without reading like a textbook. In fact I completely forgot I was reading non-fiction as I tore through this book.I found the narrative to be engrossing; the combination of the author's passion for the topic combined with the family remembrances made for a book that read like fiction. The historical figures of the time - and the Czech people - were brought to life and I felt, in quite a few cases as if I was right there as the horrible history of WWII played out.It's a book both intimate and expansive. It invites you into Mrs. Albright's family history and introduces the reader to the 20th century leaders of a small but pivotal country in Eastern Europe. I can't say it was an easy book to read - what book about WWII is - but I am so very glad I read it.
Review by muddyboy
16/06/2015
This book seems to be two books in one which I am not sure is a good thing. At the start it seems it will be a family history when Ms. Albright finds out when being vetted to be Secretary of State by Bill Clinton that her heritage is actually Jewish when she was raised a Catholic. Three of her four grandparents were killed during the Holocaust. Then the book veers into the Czech governments struggle to maintain its integrity against the Nazis early and the Russians after World War 2. At this point her family falls to the background and the majority of the book is about internal Czech politics which bogged things down unless you are a real historical junkie. Then toward the end the family rises to prominence once again. I guess I felt she should have run with one theme or the other. It is interesting but unless you have a passion for politics the reading will be a grind for you in parts.
Review by Remizak
16/06/2015
Because my paternal grandparents were Slovak immigrants, I was always aware of and interested in Czech and Slovak history. I remember how stunned I was the first time I read about how the British and French sold out Czechoslovakia to Germany in order to appease Hitler and, especially, how galling it was to read of Neville Chamberlain's crushing dismissal of the situation of the Czechs: "How horrible, fantastic, incredible it is that we should be digging trenches and trying on gas-marks here because of a quarrel in a far away country between people of whom we know nothing."Chamberlain gave us the viewpoint of a citizen of an imperial power. Madeleine Albright shows us what it was like from the other side, for those "people of whom we know nothing," when their aggressive neighbors decided to take over and their supposed allies' support evaporated.Marie Jana Korbel was born in Prague in 1937 and was just a baby when Hitler annexed the Sudetenland in the northern part of the Czech lands and, shortly thereafter, invaded and made the Czech provinces of Bohemia and Moravia into a Reich Protectorate. Her father, Josef Korbel, was in the diplomatic service and was able to take his family to London, where the Czech government-in-exile had fled, and where he produced wartime radio programs to be broadcast to those back home under the Nazi yoke.After the war's end, the Korbel family was able to return, and Josef Korbel to resume his diplomatic service, but the Communist coup in 1948 forced them out of their home once again. They were given asylum in the US, where Marie Jana Korbel became Madeleine Albright, the first woman Secretary of State.You may remember that very shortly after President Clinton named Albright Secretary of State, she learned that her parents were Jewish (though they'd converted to Roman Catholicism before her birth and raised her as a Catholic) and that a score of her close relatives, including three of her grandparents, were killed in Auschwitz and the Czech camp at Terezin (called Theresienstadt by the Germans).In this book, Albright melds her family history with that of the Czechs (and, much less so, the Slovaks). Jews were among the most assimilated and secularized in Europe, and many considered themselves Czech before Jews, especially when Czechoslovakia became an independent nation after World War I. The country was an industrial powerhouse with a very high literacy rate and a strong cultural life. Of course, its strengths made it a target for Germany and the USSR.Josef Korbel's position in the Czech government and closeness to its leaders gives Albright a good background to explain the diplomatic and political high-wire act the country had to perform, trying to preserve its culture and economy against the aggression of its neighbors and the relative indifference of its friends. She writes an excellent, readable history of the political and diplomatic history of the country.Surprisingly, it is with the personal side of the history that Albright is less successful. I would have liked to know more about her experiences during the Blitz (though she was very young) and, especially, about her parents' decision to convert and what happened to her relatives. I got the impression that because she loved her parents deeply, and they didn't choose to tell her or her siblings about the family history, she may have felt a sense of disloyalty if she'd delved into this subject too deeply.DISCLOSURE: I received a free review copy of this book.