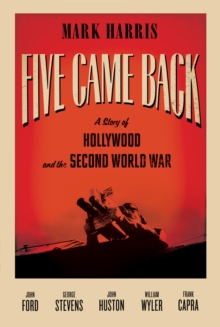 Five Came Back : A Story of Hollywood and the Second World War
Hardback
Description
Shortlisted for the Longman-History Today Award 2015 Five Came Back tells the untold story of how Hollywood changed World War II, and how World War II changed Hollywood. Before the Second World War the Hollywood box office was booming.
But government investigations into allegations of corruption and racketeering were rife.
A feeling hung in the air that the business was too foreign, too Jewish, too 'un-American' in its values and causes.
Then the war changed everything. With Pearl Harbor came the opportunity for Hollywood to prove its critics wrong by turning its talents to the war effort. No industry professionals played a bigger role in the war than America's most legendary directors: John Ford, William Wyler, John Huston, Frank Capra, and George Stevens.
Between them they were on the scene for almost every major moment of America's war, and in every branch of service - army, navy, and air force; Atlantic and Pacific; from Midway to North Africa; from Normandy to the fall of Paris and the liberation of the Nazi death camps. With characteristic insight and expert knowledge of these five incredible lives, Harris looks at the ways in which the war changed the history of film forever.
Free Home Delivery
on all orders
Pick up orders
from local bookshops