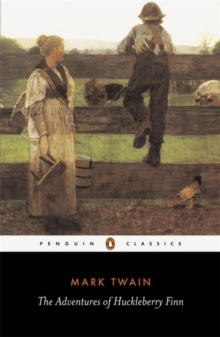 The Adventures Of Huckleberry Finn,
Paperback
Description
Mark Twain's witty, satirical tale of childhood rebellion against hypocritical adult authority, the Penguin Classics edition of The Adventures of Huckleberry Finn is edited with a critical introduction by Peter Coveney. Mark Twain's story of a boy's journey down the Mississippi on a raft conveyed the voice and experience of the American frontier as no other work had done before.
When Huck escapes from his drunken, abusive 'Pap' and the 'sivilizing' Widow Douglas with runaway slave Jim, he embarks on a series of adventures that draw him to feuding families and the trickery of the unscrupulous 'Duke' and 'Dauphin'.
Beneath the exploits, however, are more serious undercurrents - of slavery, adult control and, above all, of Huck's struggle between his instinctive goodness and the corrupt values of society which threaten his deep and enduring friendship with Jim. Based on the first edition of 1884, The Adventures of Huckleberry Finn includes a chronology and list of further reading by Richard Maxwell. Samuel Langhorne Clemens (1835-1910) trained as a steamboat pilot on the Mississippi river; 'Mark Twain', a phrase used on riverboats to indicate that the water is two fathoms deep, became the pseudonym by which he was best known.
After the Civil War, Twain turned to journalism, publishing his first short story in 1865.
Dubbed 'the father of American literature' by William Faulkner, Twain led a colourful life of travelling, bankruptcy and great literary success. If you enjoyed The Adventures of Huckleberry Finn, you may like Mark Twain's The Adventures of Tom Sawyer, also available in Penguin Classics. 'All modern American literature comes from one book by Mark Twain called Huckleberry Finn ...There has been nothing as good since' Ernest Hemingway 'Huckleberry Finn, like other great works of imagination, can give to every reader whatever he is capable of taking from it' T.S.
Eliot
Information
Format: Paperback
Pages: 400 pages
Publisher: Penguin Books Ltd
Publication Date: 28/01/2003
Category: Classic fiction (pre c 1945)
ISBN: 9780141439648
Other Formats
Paperback from £2.50
Hardback from £5.09
Leather / fine binding from £21.95
eAudiobook MP3 from £6.40
EPUB from £0.99
Other book format from £12.45
Free Home Delivery
on all orders
Pick up orders
from local bookshops
Reviews
Showing 1 - 5 of 5 reviews.
Review by mjiko
16/06/2015
A lot of the time reading 'classics' can be a bit disappointing when they don't live up to the hype, but I absolutely loved Huck Finn and couldn't put it down. It was really funny and absolutely drew me into its world.
Review by reading_fox
16/06/2015
What a very annoying book, I really struggled through this. I often enjoy humourous side swipes at culture, I love the old original details into how people lived, but this just failed. It tried to be an american equivalent of Just William with a cheeky chappy having adventures and the time of his life in early america, but it just didn't work. Huck lies, steals, and generally cheats his way downriver on a raft with the escaped nigger Jim. They meet up with some even worse crooks and do nothing at all to prevent them causing even more hardship. In thier hour of need Huck and Jim then abandon them to their fate and the decieve an honest family and generally make life a misery. They have no repentance and no remorse. ll the other characters are thin the women are particularly contradictory with no explained reason (other than that they are women). Tom Sawyer return for the end third and proceeds to drag out what was already becoming dreary to even worse extremes. His character has changed completely from what I remember of the original. Th eonly redeeming highlight of the chracters is that they do generally stick together, and look after each other in the numerous tight spots in which they contrive to place themselves, including what for the time must have been an uncommon bond with Jim.The prose is annoying although I realise the language has changed and that the local dialects are there for flavour they make it very difficult to read at times, and the people were all so annoying that one didn't want to plough through the language to discern what might have been meant. Some of my problems with this book are probably cultural not being an american the facets of society which are being lampooned (I hope that's whats happening) are oblivious to me, but in a good book it would have been obvious and it wasn't.
Review by Morley4me
16/06/2015
This is indeed a classic. It is an adventure that is about imperfect kids having a grand time and using their imagination. I think Children and adults alike understand Tom and Huck's struggle with life
Review by Maybird25
16/06/2015
I am reading this now in class, and it is very interesting!
Review by DanieXJ
16/06/2015
Argh. Classic. I don't think so. It was horrible, just... I know that I'm supposed to see it as some great book that changed whatever, blah, blah, blah, but I just can't stand it. I didn't mind the Tom Sawyer book, but this one, every time I had to read it in school (more than once, including in eighth grade) I just wanted to scream hated it so much. Give me the Sound and the Fury over this.