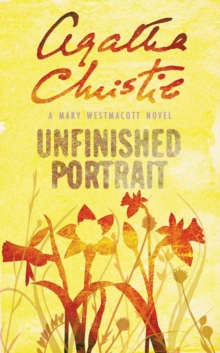 Unfinished Portrait
Paperback
Description
A stunning novel of death and destiny. Bereft of the three people she has held most dear - her mother, her husband and her daughter - Celia is on the verge of suicide.
Then one night on an exotic island she meets Larraby, a successful portrait painter, and through a long night of talk reveals how she is afraid to commit herself to a second chance of happiness with another person, yet is not brave enough to face life alone.
Can Larraby help Celia come to terms with the past or will they part, her outcome still uncertain?
Famous for her ingenious crime books and plays, Agatha Christie also wrote about crimes of the heart, six bittersweet and very personal novels, as compelling and memorable as the best of her work.
Information
Format: Paperback
Pages: 416 pages
Publisher: HarperCollins Publishers
Publication Date: 19/05/1997
ISBN: 9780006499466
Free Home Delivery
on all orders
Pick up orders
from local bookshops
Reviews
Showing 1 - 1 of 1 reviews.
Review by davidabrams
16/06/2015
Embellished AutobiographyAgatha Christie's life hides behind the thin veneer of fiction in Unfinished Portrait, the 1934 novel she penned under the pseudonym of Mary Westmacott. The "portrait" of Celia so closely mirrors that of Agatha that the barrier between author and character is even thinner than veneer: clear plastic wrap is more like it.Looking for something a little different in the Christie section of my home library and wanting a break from the murder mystery formula, I decided to take Mary Westmacott for a spin this past week. It turned out to be less than a joyride.Sure, Agatha's playful dance with the written word is still here, but the book itself moves at the pace of a drunk elephant wading through molasses. My displeasure with the book probably stems from the fact that I've already read her Autobiography, and so rehashing those familiar events, characters and emotions was like staring at a plate of leftovers—covered in plastic wrap, of course.Let's backtrack for a minute: why did Agatha write these Mary Westmacott books (of which there were six)? We turn to her Autobiography, the real autobiography, for Agatha's perspective:It had been exciting, to begin with, to be writing books—partly because, as I did not feel I was a real author, it was each time astonishing that I should be able to write books that were actually published. Now I wrote books as a matter of course. It was my business to do so….What I wanted to do now was to write something other than a detective story. So, with a rather guilty feeling, I enjoyed myself writing a straight novel called Giant's Bread.That first Westmacott novel, springing up from her restlessness to sneak out of the prison of cozy mysteries, was published in 1930, the same year as Murder at the Vicarage (in which we also find her trying something new—the character of Miss Marple). No one suspected that this novel of a musician caught in a love triangle was written by the same woman who described nice country folk murdering each other with blunt instruments. That secret identity was kept until 1949 when the London Sunday Times pulled the mask off of Mary Westmacott. Agatha wrote two more Westmacott novels after that (her last was The Burden in 1956).In their well-written, spot-on essay "The Romantic Englishwoman" found in the Bedside, Bathtub & Armchair Companion to Agatha Christie, Pat Maida and Nick Spornick write that using the Westmacott disguise did more than give Agatha another genre market into which she could tap—it also freed her to explore the mystery of her own character, to spelunk down into the dark cave of her soul:The intense personal feeling poured into these novels may well have kept Christie in hiding. A shy, introverted woman, Agatha Christie was never one to expose her emotions. But she may have needed a way to channel this dimension of herself, which could never be expressed within the confines of the detective story.And, as even the most casual Christie fan knows, there was plenty of high drama in Agatha's life in the 1920s when her marriage to Archie Christie imploded with his infidelity and her subsequent mysterious (and still unsolved) disappearance in December 1926. Writing a book about tormented lovers in which nothing is killed except a marriage, was just the kind of outlet Agatha needed at the time. As Maida and Spornick note, "For Christie, this romance [Unfinished Portrait] may have been an exorcism in grief."Unfortunately, Unfinished Portrait turns out to be an exercise in tedium for the reader. Agatha paints with some pretty broad strokes when describing huge chunks of Celia's life which pass before our eyes in the space of thickly-worded paragraphs. Characters come and go and it's difficult to keep track of them without flipping back and scanning the page to the spot where they were first mentioned.Unfinished Portrait chronicles the life of Celia, raised as a sheltered child in the twilight years of the Victorian era. As we find in Christie's Autobiography, there's a long parade of maids, cooks, governesses, tutors, suitors, dance partners, and eventually a husband—Dermot, here; Archie, in real life. Throughout, Celia is portrayed as a girl who is "queer and panic stricken and horribly lonely" (all traits to which Agatha has admitted). She's never really able to get a good grip on who she is as a person. Marriage to an exacting, demanding husband sucks even more self-confidence away from her.Nothing much happens in the way of action; the high point of drama comes when Celia has a baby and upsets Dermot's carefully-ordered, everything-in-its-proper-place universe. There are tears, recriminations, apologies, and reconciliations—the stuff of three sopping hankies. A far cry from the tightly-plotted, swiftly-moving mysteries, this novel takes its own slow time, ambling along at an obese pace from scene to scene.As I could have guessed, Unfinished Portrait really only picks up steam in the final chapters when Celia's marriage to Dermot falls apart and she is driven to the brink of suicide (literally the brink in a scene where she teeters at the edge of a cliff). I came to Unfinished Portrait hoping for more clues into the mystery of Agatha's 1926 disappearance, but I was left with little more than a strong suspicion she was planning to commit suicide during those eleven "lost" days. Unfinished Portrait does fill in the gaps of what was missing in the Autobiography, supplying us with much more emotion as Celia spirals down into madness and despair.Agatha pulls no punches in her depiction of Dermot as an absolute brute who was a bright, punishing sun to Celia's obedient, revolving planet. If there is any truth to the fiction (and I believe there are more than just a couple of grains), then Archie must have been an intolerable husband who mentally abused Agatha for years. Eventually, Celia says she fears for her life, that Dermot wants to kill her to be rid of his "silly" little wife. And that is when she decides to "escape" to "somewhere safe." In 1926, that was a spa in Yorkshire where Agatha was found, suffering from amnesia (so went the stories in the press). Agatha writes of Celia in Unfinished Portrait, "She was going away—out of it all. She couldn't bear any more. It hurt too much."She, Agatha, has cathartically transferred her own pain to the page in Unfinished Portrait. Unfortunately for the reader, that pain just turns into a dull ache.