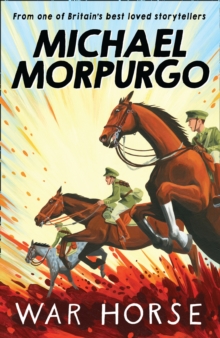 Description
The book that inspired Steven Spielberg's Hollywood blockbuster movie and an internationally acclaimed stage show ...it can only be Michael Morpurgo's War Horse.
In the deadly chaos of the First World War, one horse witnesses the reality of battle from both sides of the trenches.
Bombarded by artillery, with bullets knocking riders from his back, Joey tells a powerful story of the truest friendships surviving in terrible times.
The bedlam of battle had begun. All around me men cried and fell to the ground, and horses reared and screamed in an agony of fear and pain.
The shells whined and roared overhead, and every explosion seemed like an earthquake to us.
One horse has the seen the best and the worst of humanity.
The power of war and the beauty of peace. This is his story. Former Children's Laureate and award-winning author, Michael Morpurgo, has written nearly 100 books for children, many of them war stories.
But none have become as famous as War Horse. Inspiring a long-running stage show and a box office film directed by Steven Spielberg, War Horse has become an international sensation.
Read the book that started it all; the stunning wartime classic.
Information
Format: Paperback
Pages: 192 pages, illustrations
Publisher: Egmont UK Ltd
Publication Date: 04/09/2006
Category: Adventure
ISBN: 9781405226660
Free Home Delivery
on all orders
Pick up orders
from local bookshops
Reviews
Showing 1 - 3 of 3 reviews.
Review by pokarekareana
16/06/2015
Having seen the stage production of this book on the West End (London's answer to Broadway, darling!) I already had a hunch that I might just love it. I had never read any of Morpurgo's work, although I understand that he is quite a prolific childrens' writer, but I feel like I could sit down and read everything this man has written. I was struck by how well he combined things that some children will absolutely love reading about (namely animals, or more specifically, horses) with things that older children probably need to be reading about (war, presented realistically and not glamourised). Using an equine perspective, rather than a human one, worked tremendously well and I think it would have been a mistake to try to tell the story from Albert, the boy's, perspective. An absolute must-read - I wish I'd discovered this earlier!
Review by AngieMargi
16/06/2015
A tale told by Joey, a horse whose mother was sold in a sale when he was less than 6 months old. His tale is full of trials and tribulations, but also love and caring. A very powerful story set in the dreadful years of war held in France.
Review by Epic_Alice
16/06/2015
I loved this book. Before I read the book I watched the film. How they built up Joey in the wires in the film was horrid and made me shed one tear but the book was even more built up. The ending was amazing but I don't want to say to much and spoil this great read.For the film: 4For the book a: 5