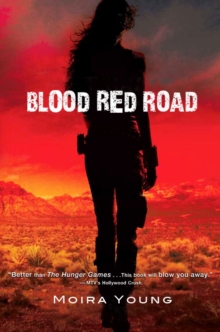 Description
Winner of the Costa Children's Book Award 2011. "I ain't afeared of nuthin." Saba's twin is golden. She is his living shadow. He is strong and beautiful. She is scrawny and dark. Nothing will separate them...Raised in isolated Silverlake, Saba is ignorant of the harsh and violent world beyond her home.
But when her twin is snatched by black-robed riders, red rage fills her soul.
How will Saba find him in a wild, scorching and lawless land?
Racing across the cruel dustlands to find him, she can spare no one.
Not even the boy who saves her life. She must silence her heart to survive. Blood will spill. Every step of Saba's journey sizzles with danger in this futuristic thriller, which beats with a powerful, red-blooded heart. "A shot of pure adrenalin. Exuberant, exciting and charged with emotion...If a better book for teenagers is published this year, I'll be surprised." The Times "Has an elemental power, unfolding across achingly barren landscapes, full of blistering hotwinds and swirling clouds of orange dust." New York Times
Information
Format: Paperback
Pages: 544 pages
Publisher: Scholastic
Publication Date: 04/01/2012
Category: Adventure
ISBN: 9781407124261
Free Home Delivery
on all orders
Pick up orders
from local bookshops
Reviews
Showing 1 - 2 of 2 reviews.
Review by Yogiboo
16/06/2015
Favourite book of the year! Just amazing.
Review by ArkhamReviews
16/06/2015
At first, I found the narrative style of Blood Red Road to be incredibly off-putting. The story is told in first person from Saba's perspective and is written in her dialect, making it quite difficult to get into. However, I'm really glad that I stuck with it.After a little while, I began to notice the odd style less and less and at the same time, the plot gripped me. The novel is fast-paced and exciting and set it a bleak and interesting dystopian setting, drawing on elements of Spaghetti Westerns to create a truly memorable world. Although the novel has environmentalist overtones, these are presented subtly and so the novel never seems preachy.Saba is also one of the strongest female leads that I have seen in a novel for a long time, wonderfully complex and possessing of a balance of character traits to made her feel like a real teenager rather than a Mary Sue or violent killing machine.I could not recommend this novel enough. Even though there are dozens of dystopian novels in the best-seller list, this one stands out over them as something really special.