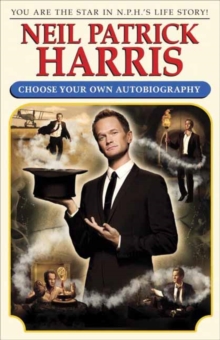 Neil Patrick Harris : Choose Your Own Autobiography
Hardback
Information
Format: Hardback
Pages: 256 pages, line drawings/ photo insert
Publisher: Random House USA Inc
Publication Date: 15/10/2014
Category: Television
ISBN: 9780385346993
Free Home Delivery
on all orders
Pick up orders
from local bookshops
Reviews
Showing 1 - 5 of 18 reviews.
Previous | Next
Review by figre
11/07/2015
To approach his autobiography, Neil Patrick Harris has decided to write it as a "Choose Your Own Adventure" type book. In interviews he discusses how he loved those types of books and he felt that, by using this approach, people could make some of the choices he had to make.Actually, I think there was a whole different reason. This is a man who has led an interesting life, but that is not exciting enough to lend itself to the straight ahead narrative we expect from autobiographies. Oh, I'm not saying it was a boring life. This is someone who had success at a very young age and was able to escape the normal child star pitfalls. This is someone who spent a bit of time coming to grips with his sexuality, coming out when certain pressures came to bear. This is a homosexual man who has had two children through a surrogate and now raises them with his husband.And if you look closely at those descriptions, you see the problem. Yes, he has faced adversity, but he hasn't faced the usual highest highs and lowest lows that are the bread and butter of many autobiographies. Yes, high highs. But the lows have been valleys, not deep canyons. (Easy for me to say – I didn't have to live his life. But I'm just comparing to what I see in other autobiographies.)The other type of autobiography you will often see are those where things don't really go wrong for the author, but they have a lot of good stories to tell. That usually means they are written by people much older than Harris.So, with all that in mind, this approach may well have been the best choice. Yes, he has faced adversity. But enough to keep us glued to every page? Probably not. Yes, he has good stories. But enough to fill a book? Not so sure. So instead, we have a slight of hand (which matches his love of magic); we have an interesting conceit that presents the information in a slightly different format. It is entertaining, and it distracts us.All this works, but it does get to be a bit much. The make-your-own-adventure conceit wears thin many times, and at times he writes as if he remembered he is supposed to be including these red herrings. I read the book straight through without worrying about the conceit. My wife did, also. And my son did, also. And my daughter is now reading the book and, while I haven't checked with her, I imagine she is doing the same. And I'll bet that most people use that approach. And I'll even further bet the Harris never expected many people to read it any other way. It is a lark, and it is slightly fun, and it is cute, but it does grow old.But, when all is said and done, it is a nice book. Harris implicitly acknowledges that he has had a pretty good life. And he tells us this without particularly rubbing our noses in it. And, by the end, he strikes you as someone you might not mind knowing.And the stories he does have are quite good.
Review by mountie9
16/06/2015
The Good Stuff This autobiography is -- legen - wait for it-- dary (Yes you know I would have to go there) The most unique way of presenting an autobiography I have ever seen and lets face it, only this multi talented could pull it off so wonderfully Not at all relevant to the review, but I met him at BEA and he is so handsome and sooo charming & he shook my hand -- yes I feel sort of special right now LOL! Touching, honest and utterly perfect. He is definitely a class act. Even when being negative about someone it is done in a classy honest way Will make you snort out with laughter His mom. Love where they talk about NPH maybe being gay Found a connection to him - yup we are both boring crappy drunks LOL! I had to pretend to be drunk a lot Neil in High School and College because booze just makes me sleepy Yeah, there is a chapter written by Nathan Fillion He is also a huge fan of anything Whedon and learned that he actually auditioned for a role in Firefly Chapter on how David him became parents is hilarious There are magic tricks and recipes I always appreciated his thoughts on his gayness. I'm gay, who gives a fuck. Some people are straight and some people are gay end of story. The Not So Good Stuff Try reading it like a normal book and you will find yourself going -- huh Wanted more pictures I really feel bad about never having watched Doogie. Saw commercials so knew about it but NPH will never be Doogie to me. Feel sorta bereft now. My first introduction to him really was Harold and Kuman go to White CastleFavorite Quotes/Passages "But moms are moms, and later in life she will tell you that deep down she always had a strong suspicion*""* You almost had to have a board slapped against your head not to know he was interested in men, not women - Your Mother January 21, 2014""But at the same time you're not shouting "I'm Gay" into a megaphone from the middle of West Hollywood either. And why should you? There's a great deal of immodesty in assuming the entire world is desperate to know who and what you stick your wang into. You yourself aren't particularly interested most of the time. And you' are not, by temperament, an activist. Despite you love for Les Miz, flag -waiving on the barricaded is not your style in real life.""You're shown the set and the lights and the costumes and learn another various the the same basic lesson about showbiz you will learn over and over again - it's all fundamentally just a bunch of crap glued together and spray-painted over. But the wonderful paradox is that knowing this does not distract from the experience."5 Dewey'sI received this from Random House in exchange for an honest review
Review by olegalCA
16/06/2015
Hysterically funny! The language is a bit graphic at times but it's fantastic.
Review by SquirrelHead
16/06/2015
Neil Patrick Harris has been entertaining us on screen since he starred as Doogie Howser. He's a funny guy so when I saw this book I was intrigued. After reading a bit and jumping to a few of his fictional alternative futures I found myself bored. It's not a memoir or autobiography. It would behoove anyone considering purchasing this book to explore the local library instead of putting out money for this one. If you're a fan of this style then it might be for you. It just wasn't my cup of tea, as the saying goes. It's meant to be funny but after a while the technique wore thin and I found it less and less amusing. Yes, I get it's a "choose your adventure" sort of book but I found the fictional accounting of an abusive childhood with a drug addict mother very crass. He writes well, but the book does jump around (probably intentionally) and that makes it hard to read. If you want to know more about NPH this isn't the book you should purchase. Trying to be funny it falls short. It does include drink recipes.
Review by Lindsay_W
16/06/2015
It's been a while since I've read a "choose your own adventure" so it took me a while to get into the groove of the format of this book, but overall it is a good balance of poignancy and humour sure to appeal to fans of the multi-talented NPH.
Also by NEIL PATRICK HARRIS