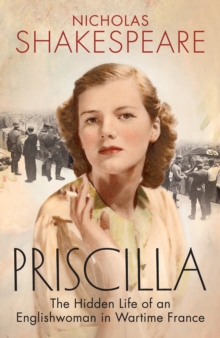 Priscilla : The Hidden Life of an Englishwoman in Wartime France
Hardback
Description
This is the astonishing true story of a young woman's adventures, and misadventures, in the dangerous world of Nazi-occupied France. "A most strange and compelling book driven by the writer's unsparing search for truth: now an optimistic hunt for a family heroine, now a study in female wiles of survival, now a portrait of one very ordinary person's frailty in the face of terrible odds". (John le Carre). When Nicholas Shakespeare stumbled across a box of documents belonging to his late aunt he was completely unaware of where this discovery would take him.
The Priscilla he remembered was very different from the glamorous, morally ambiguous young woman who emerged from the many love letters and journals, surrounded by suitors and living the dangerous existence of a British woman in a country controlled by the enemy.
He had heard rumours that Priscilla had fought in the Resistance, but the truth turned out to be far more complicated.
As he investigated his aunt's life, dark secrets emerged.
Nicholas discovered the answer to the questions he'd been puzzling over: what caused the breakdown of Priscilla's marriage to a French aristocrat?Why had she been interned in a prisoner-of-war camp and how had she escaped? And who was the 'Otto' she was having a relationship with as Paris was liberated?
Priscilla's story shows us the precariousness of life in occupied France, when loyalties were compromised and life could change in an instant.
It gives us an intimate insight into women's lives in times of conflict and asks us to consider what we might do to survive in similar circumstances.
Information
Format: Hardback
Pages: 448 pages, illustrations (black and white)
Publisher: Vintage Publishing
Publication Date: 07/11/2013
ISBN: 9781846554834
Other Formats
Paperback from £8.59
EPUB from £5.49
Free Home Delivery
on all orders
Pick up orders
from local bookshops
Reviews
Showing 1 - 1 of 1 reviews.
Review by overthemoon
27/08/2015
A detailed biography of the author's aunt, with facts gathered from her writings, her correspondence, and interviews with friends and family).I did try to like Priscilla (the girl and the woman, that is), and too feel sympathetic towards her, but she appears to be a rather shallow person without much "oomph", with a lot of physical charm but not much else, apart from a strange taste in men. A failed model, a failed writer... it's hard to know what she was really like: witty? caring? intelligent? But obviously unhappy. Perhaps there is some reticence on the author's part, as he is writing about a member of his family? Or perhaps it was Priscilla herself, who kept her feelings to herself?On the positive side, the background is interesting; I had never given thought to what it would be like to be British in France during the Occupation and did not realise they were sent to camps such as the one in Besançon. I also liked the inclusion of photographs in the text - in the right place, too, though for quality they would have been better on glossy paper. On a different note, and taking up something I read in another review, I wish that authors who litter their texts with foreign words would get them checked before publishing, or that the editors would do their job properly. Here there are many French words and expressions, sometimes translated, sometimes not, sometimes mistranslated, sometimes mis-spelled, sometimes put between quotation marks. The kind of thing that brings on an acute fit of Fremdwortrechtschreibfehlerleiden - the pain caused by mis-spellings of foreign word. (Actually I'm not sure that the word really exists but if it doesn't, it should.) The problem being that once I see a mistake, I find myself looking out for more, which distracts me from the narrative. I'm not sure that the author has realised that "mon petit bouchon" is a fairly common endearment in French, like pet or petal in English, and I doubt if Robert thought of Priscilla as a little cork bobbing up and down on her emotions (that one gets translated every time). Why does he say Besançon means House of Light when the word is derived from the Latin Vesontius which has something to do with mountains? There are mistakes in the English, too - little typos, and somewhere there is a horrifying her's. And the neat French handwriting on the label of the dossier on p. 238 is certainly not Gothic script.But I'm dwelling too much on little faults, no matter how much they annoy me.On the whole, an interesting documentary work but which failed to arouse any passions.