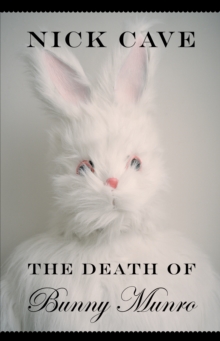 The Death of Bunny Munro
Hardback
Description
The Death of Bunny Munro recounts the last journey of a salesman in search of a soul.
Following the suicide of his wife, Bunny, a door-to-door salesman and lothario, takes his son on a trip along the south coast of England.
He is about to discover that his days are numbered. With a daring hellride of a plot The Death of Bunny Munro is also a modern morality tale of sorts, a stylish, furious, funny, truthful and tender account of one man's descent and judgement.
The novel is full of the linguistic verve that has made Cave one of the world's most respected lyricists.
It is his first novel since the publication of his critically acclaimed debut And the Ass Saw the Angel twenty years ago.
Information
Format: Hardback
Pages: 288 pages
Publisher: Canongate Books Ltd
Publication Date: 03/09/2009
ISBN: 9781847673763
Free Home Delivery
on all orders
Pick up orders
from local bookshops
Reviews
Showing 1 - 5 of 7 reviews.
Previous | Next
Review by g026r
16/06/2015
Point form review: begins poorly, but the writing style/tone picks up and improves as it goes on. Telegraphs its plot-twists miles away in the literary equivalent of big flashing neon letters. Last several chapters unfold in a manner reminiscent of what I'd expect in a high-school writing project. Attempts at deepness and meaning only serve to come off as amateurish and heavy-handed.Shorter review: a disappointment. Stick with <i>And the Ass Saw the Angel</i>.
Review by theanalogdivide
16/06/2015
This book feels like it's having a mid-life crisis, with all the profanity and regret that entails. A mix of sleaze, black-magical realism, and pathos. Not for the squeamish, but you wouldn't expect anything less from Nick Cave.
Review by theanalogdivide
16/06/2015
This book feels like it's having a mid-life crisis, with all the profanity and regret that entails. A mix of sleaze, black-magical realism, and pathos. Not for the squeamish, but you wouldn't expect anything less from Nick Cave.
Review by soylentgreen23
16/06/2015
How does one read a book like 'The Death of Bunny Munro'? Does one take it at face value, and decry its constant misogyny, its lack of any moral compass, and its unlikable protagonist? Or does one do what one might have done with Amis's 'Money' and enjoy the literary ride, or with Ellis's 'American Psycho' treat the book as satire, a commentary of consumerism culture where here sex and women are items to be consumed, though at the price of one's soul?I was given this book as a Christmas present and it took me all year to bring myself to read it. I'm not a fan generally of non-writer writers; I didn't think much of Ethan Hawke's efforts, and would have preferred him to stick with the acting; I don't even like Nick Cave's music, so I was tempted to write this one off from the very start. It was only the dim and distant feeling of otherwise disappointing the gift-giver if I gave up that kept me going at the start, and when I looked beyond the purplish prose I managed to find the spirit to run on through to the end. I'm glad I did - 'Bunny Munro' was a surprisingly good read, and if nothing else will make me reconsider Nick Cave, both as a writer and as a singer. Perhaps, if it didn't sound so contrived and conceited, it would be better to call him a wordsmith and be done with it.
Review by kirstiecat
16/06/2015
This book should really garner more like a 3 1/2 but that is impossible with Goodreads rating system and I don't feel it deserves 4/5 stars. I'd recommend it to Nick Cave fans but that's probably as far as the recommendation would extend. It's a far cry from what he achieved in his novel And the Ass Saw the Angel, for instance. Still, it's not completely devoid of positives and it's definitely easier to read in terms of its language than the predecessor. <br/><br/>What Nick Cave does well is bring us a character who is truly simultaneously depraved and happy go lucky, therefore, slightly likable despite his immorality. Bunny Munro is a sex fiend to the point of roofies and date rapes even as a married man with a son. But, as a traveling salesman he seems to get all of the action he could want, telling girls his name is "Bunny" with a wiggling of his hands behind his ears. Most of the girls seem to fall for it in this twisted Kylie Minogue fueled grand hallucination. Well, clearly parts of the novel are ripe with hallucinations and delusions and, if we really did care about Bunny we'd probably be more motivated to sort out reality. <br/><br/>There's a hint of a James Joyce mentality of son becomes father cyclic nature of families but only a hint. It's more about this psychotic over the top escapade where a man has to come to terms with the nature of himself, someone he truly can't escape...and the reader must ask her/himself..."Does Bunny Munro even see his actions as wrong?" That's where Cave errs...in trying to create a complex character, we don't actually see one that can be redeemed even though I think we're supposed to want him to be redeemed.<br/><br/>The best character in the novel is Munro's son, Bunny Jr. and already you feel like he's cursed the same way as his father whom he idolizes. Bunny Jr. is a bit different in his quest for knowledge over women at least at his young age. One has to hope he'll eventually have decent role models, go back to school, go to college, and realize the true horror of everything he witnessed from parents he thought were fun and lovable in his oblivious and not nearly terrified enough state of innocence.<br/><br/>Oh, and this book is very NSFW. Seriously, if you work in a standard work space, don't even think of bringing it on your lunch break. Read it in your bathroom or something. Incidentally, there are a few bathroom scenes. Yeah. NSFW.