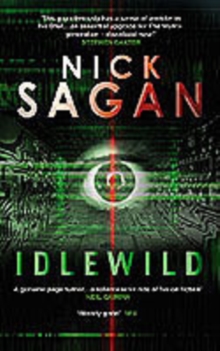 Description
It is a not-too-distant future in our all-too-recognizable world.
It is the late twenty-first century and a deadly virus has seeped into human kind's genetic make-up.
In only a few generations this plague will have wiped us off the face of the planet, but we're not going down without a fight.
Teams of scientists, geneticists and programmers race to find a cure, but time is not on our side and our only hope lies in one last, desperate gamble ...Eighteen years later and ten individuals are about to come of age.
One of them, a young man, is suddenly startled awake.
He has no memory. His surroundings mean nothing to him. All he knows for certain is that someone is trying to kill him.
Unsure who he can trust, he is reacquainted with his companions, all of whom are being trained at a special establishment run by the elusive Maestro.
As he tries to uncover the identity of his would-be killer, it becomes clear that more - so much more - than just his life is at stake ...Smart, stylish, terrifying and thrilling in equal measure, Idlewild fuses the fierce imagination of The Matrix with the chilling social vision of Minority Report, and introduces a singular new literary voice.
Information
Format: Paperback
Pages: 384 pages
Publisher: Transworld Publishers Ltd
Publication Date: 02/08/2004
ISBN: 9780553815979
Free Home Delivery
on all orders
Pick up orders
from local bookshops
Reviews
Showing 1 - 4 of 4 reviews.
Review by heidialice
16/06/2015
A man awakens with no memory of who he is, or where he is. But he's sure someone is trying to kill him. As he slowly recovers his memories and hunts for his assassin, he is forced to look more closely at his own world and discover the deeper truths of who he is, and why.This is a brilliant take on post-apocalyptic fiction, taking place in part in a convincing immersive virtual reality. Fast paced, and filled with tantalizing clues, this is both imaginative and deep. Exactly what sci-fi should be, and a worthy inheritor to the Sagan name.
Review by crayonwillow
16/06/2015
Grade: 6/10Thoughts: It had potential, but ruined itself for me near the end. I did like the idea of living in your mind in a different world, but WHY they were there is the problem I had with the book.
Review by isabelx
16/06/2015
Ten teenagers attend a new kind of boarding school in the Michigan town of Idlewild, in which they are plugged into a virtual reality world 6 days out of seven, spending their free time there as well as their lessons. When Halloween (aka Gabriel Hall) suffers amnesia after a rogue power surge and Lazarus disappears with the unconvincing explanation that he has graduated early, the children start to wonder whether the machine intelligences that teach them and control the virtual environment, might be responsible.I liked the way that the reader gradually realises what is really going on, at the same time as the characters are also struggling to figure it out.
Review by SilverThistle
16/06/2015
Idlewild is very Matrix-esque. It starts when we meet a confused young man, who appears to be in a dark sinister place, and who seems to know as little about his world as we do. It's all very confusing (for him, and for us) but also intriguing. It seems to be a chilling place on the one hand, but as things develop we see that it's actually a place of friendship and fun......until things start to go Pete Tong.<br/><br/>The confused young man we meet on the first page is Halloween (how cool is THAT for a name?!!) and in his little corner of the world everything is orange and black. The colours are his 'call sign' or 'gimmick' and help distinguish him from his friends who each have their own colour combo's and quirky names.<br/><br/>However, his circle of friends and the world as he knows it are about to become thrown into disarray and come crashing down around him. He comes to the realisation that his survival depends on what amounts to nothing more than computer pixels. He realises that his world is actually a lot smaller than he first thought. A LOT smaller.<br/><br/>He's not who he thought he was, his friends and teachers are not who he thought they were and his life depends on being able to work out what's real and what's not.<br/><br/>Confused? So was I......but it's a great confusuion! I loved this book! I haven't read anything like it before and I'm so glad it's a three-part'er. I like the character Halloween a lot in this first installment and can't wait to see where he goes from here. This is a great book to lose yourself in. It's one of my favourite subjects in works of fiction; apocalyptic, end of the world scenario with a bit of plague and 'last man standing' thrown in for good measure.<br/><br/>I didn't realise when I read this that Nick Sagan was Carl Sagan's son (how could I NOT have known, with a name like that? Duh!), but I don't think it would have made much difference if I'd known in advance because I've never read any of his dad's books to compare with. He's a talented author and regardless of who his dad is, he's got a book here that holds up well against some of best SF writers around.
Also by Nick Sagan