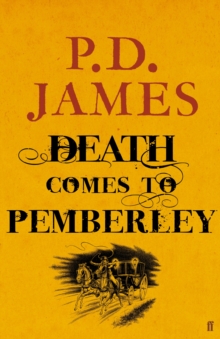 Death Comes to Pemberley
Hardback
Description
The year is 1803, and Darcy and Elizabeth have been married for six years.
There are now two handsome and healthy sons in the nursery, Elizabeth's beloved sister Jane and her husband Bingley live nearby and the orderly world of Pemberley seems unassailable.
But all this is threatened when, on the eve of the annual autumn ball, the guests are preparing to retire for the night when a chaise appears, rocking down the path from Pemberley's wild woodland. As it pulls up, Lydia Wickham - Elizabeth's younger, unreliable sister - stumbles out screaming that her husband has been murdered.
Inspired by a lifelong passion for the work of Jane Austen, PD James masterfully recreates the world of Pride and Prejudice, and combines it with the excitement and suspense of a brilliantly-crafted crime story. Death Comes to Pemberley is a distinguished work of fiction, from one of the best-loved, most- read writers of our time.
Information
Format: Hardback
Pages: 320 pages
Publisher: Faber & Faber
Publication Date: 03/11/2011
Category: Crime & mystery
ISBN: 9780571283576
Free Home Delivery
on all orders
Pick up orders
from local bookshops
Reviews
Showing 1 - 5 of 16 reviews.
Previous | Next
Review by AdonisGuilfoyle
16/06/2015
There has been a lot of fuss about this new hybrid Austenuation/murder mystery - which I obviously fell for, hook, line and sinker - because P.D. James has been writing crime novels since Caxton was a lad, but unfortunately, I found <i>Death Comes to Pemberley</i> rather a disappointment. Falling between two stools, James' ode to Austen lacks the right measure of domestic felicity at Pemberley to satisfy the <i>Pride and Prejudice</i> groupies (of which I am not one), and at the same time fails to provide a meaty mystery for readers of her own genre. In fact, the last minute confession is almost insulting - I was hoping for another twist in the tale, but that was that.The opening chapters are promising - six years on from the double Darcy/Bingley wedding, and Elizabeth is firmly ensconced as mistress of Pemberley, with two young sons, and her sister Jane lives happily nearby with Bingley and their three children. We are told that Darcy and Elizabeth are deeply in love and content with married life, even though Darcy still has doubts about marrying into the Bennet family and acquiring Wickham as a brother-in-law and Elizabeth possibly only married Darcy for his money, but since the Darcys hold but one intimate conversation, and that one a rehash of the plot of P+P in the final chapter, we have to take the author's word for it. Still, Darcy and Elizabeth behave very properly like the master and mistress of Pemberley, remembering the names of servants and visiting the children in the nursery once a day. All is well, until the dark and stormy night before Lady Anne's ball, a Pemberley tradition. After an evening of stultifying boredom with the Bingleys, their house guest and Georgiana's suitor, Henry Alveston, and Colonel Fitzwilliam (who is now a miserable viscount), Lydia Wickham bowls up to the front door in a carriage, screaming blue murder. Literally. She claims that her husband has been shot, but when Darcy, the colonel and Alveston go into the 'haunted' wood - where Darcy's great grandfather killed his ailing dog and himself in his hermit's cottage - to investigate, they discover that Wickham is not the victim after all, but the suspected killer of his best friend, Captain Denny.The mystery plods on from there - the 'police' arrive (or rather, two parish constables and a magistrate, but James insists on using the modern term), Wickham is taken away, an inquest follows, and then the trial. In London. Despite the fact that the murder took place in Derbyshire. Only the suspense of what really happened and why was keeping me hanging on - and then James ruins the whole story, with a pathetic 'confession' and pages of tenuous exposition. Without giving the game away for readers who haven't even opened the book, the whole tangled thread made little sense, apart from showing that Wickham is still a very bad boy in one way or another.And I have other questions - why no children for Lydia and Wickham, who apparently isn't loaded with blanks? How, if the story is set in late 1803/1804 - following on from the contemporary date when Austen finished writing <i>Pride and Prejudice</i> - do the Elliots of <i>Persuasion</i> and the Martins and Knightleys of <i>Emma</i> make cameo appearances in the backstory when both novels were set ten years later? James captures the narrative style of Austen, and gets the sardonic humour right on occasion, but the mystery falls flat. For a more successful spin on the same premise, read Carrie Bebris' Mr and Mrs Darcy series, which combine the light and loving touch of the Darcys and the Nick and Nora approach to armchair detection, with far more verve and affection than this miserable attempt.
Review by dajashby
16/06/2015
Established authors can get the urge to venture outside their usual genre. Science fiction seems to have a particular attraction, and indeed James has already given it a try, with reasonable success, in <i>The Children of Men</i>.I have reservations about <i>Death Comes to Pemberley</i>. Some of them could have been forestalled by an alert editor. It is unlikely that anybody would have sent for "the police" in 1803; I checked in the OED. Worse - and I didn't need to check - it is certain that nobody would have used the term "subconscious".These are minor quibbles. The story is well-plotted and entertaining and I enjoyed reading it. I was quite taken with some of her rather cheeky inventions concerning the characters and events of <i>Pride and Prejudice</i>,However if I hadn't known who had written it I think I could have readily guessed the author and therein, I'm afraid, lies the source of my major reservation. James lacks Patrick O'Brian's perfect sense of period (it has been said that his books are what Jane Austen's brothers would have written had they been of a literary inclination) and her attempt to write in Austen's style just doesn't come off.
Review by twitham
16/06/2015
I've had to have been persuaded to read Jane Austen; despite the enthusiasm of some friends for the 19th Century novelist, I have been put off by her high style and the brittle world she builds of English class distinctions at the end of the 18th Century. I was anticipating the next police procedural of P.D. James, a modern stylist and great crime writer, and I admit to some disappointment when I read the advance publicity for _Death Comes to Pemberley_: an amalgam of a Jane Austen novel and a crime thriller. Elizabeth Bennet has married Darcy and settled at Pemberley. They have two sons in the nursery and their marriage is a happy one. Each year, Pemberley Hall is the scene for a grand ball, named in honour of Darcy's late mother, Lady Anne. Pemberley is thrown into disarray on the night before Lady Anne's ball by the bloody death of an army officer in the estate woods. The scene needs much untangling as Wickham, a man never to be received at Pemberley is found kneeling over the body, drunk, and exclaiming that it is his fault that his friend is dead. Wickham is married to Elizabeth's sister Lydia, and causes ongoing distress to the Darcys by living irresponsibly beyond his means. Darcy as a paterfamilias has in the past been obliged to pick up the tab. In the subsequent investigation and trial, family loyalties are stretched to breaking point, and Pemberley looks set to be shamed for generations to come, until the final resolution, which – in Jane Austen fashion – is a set of happy outcomes for all.James's writing is so good that I was drawn into this complex web of family relationships and intrigue and enjoyed this novel almost as much as her other crime novels. (I don't think she can better _Death in Holy Orders_, but then I'm a priest of the Anglican persuasion.) I was amused that Darcy consulted his wrist-watch and Elizabeth her bedside alarm clock: they were needed to establish times of alibis. The year in which _Death Comes to Pemberley_ is set is 1803, well before the mass production of wrist-watches and the miniaturisation of alarm clocks. Darcy, as a gentleman, would much more likely have a pocket watch, if any time-piece on his person, and Elizabeth would more likely be used to consulting a maid who might know the time from a large hall clock. I can't help feeling there's a joke element here. P.D. James is too careful to have simply made a mistake. The incongruity of the time-pieces emphasise how complete the world is that James has created. I believed her portrayal of reactions to death among the British upper-class of the time. I suspect Baroness James has some nostalgia for a time when gentlemen lived on their estates and as magistrates kept good order throughout the realm. The downside to this nostalgia is that _Death Comes to Pemberley_ lacks some of the social edge of James's earlier novels. This has been a divertissement, a thoroughly enjoyable one at that, but I do hope she returns to more modern settings if we are blessed with future novels.
Review by Intemerata
16/06/2015
A bit disappointing, really, though as I know nothing of PD James besides her reputation perhaps my expectations were too high. It's entertaining enough as a light read, but in the end I don't think it's entirely successful either as a crime novel or as a P&P pastiche.It seems a shame that, having chosen to write a sequel to a book with such interesting female characters, James then sidelines them almost completely - even Lydia, whose husband is on trial for murder, barely seems to make an appearance (although, when she does, her voice is pitch-perfect). I also found the references to Persuasion and Emma rather irritating - quite apart from the fact that the dates don't match up, it came across far too much as "look at me, aren't I clever".
Review by herschelian
16/06/2015
P D James sustains Jane Austen's style admirably throughout the book, however there are, inevitably, some big differences in the picture of Regency England as depicted by her. The reader gets far more sense of the political and social background events of the time. As far as I was concerned she managed to satisfy the question - 'what happened to them after that?' which nearly all Janeites have when finishing 'Pride & Predjudice' - and she cleverly linked characters like the Elliots (from 'Persuasion') into the story. There were moments when I almost forgot it was not Austen writing. Having said that, I found the murder plot rather hastily resolved, and felt that the ending was rushed .