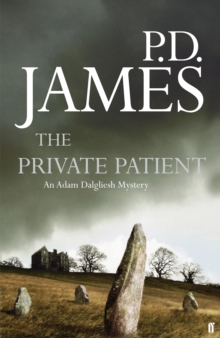 The Private Patient
Hardback
Description
When the notorious investigative journalist Rhoda Gradwyn booked into Mr Chandler-Powell's private clinic in Dorset for the removal of a disfiguring and long-standing facial scar, she had every prospect of a successful operation by a distinguished surgeon, a week's peaceful convalescence in one of Dorset's most beautiful manor houses and the beginning of a new life.
She was never to leave Cheverell Manor alive. Adam Dalgliesh and his team are called in to investigate the murder, and later a second death, which are to raise even more complicated problems than the question of innocence or guilt.
A chilling and atmospheric work of detective fiction, The Private Patient is the fourteenth novel to feature the inspector protagonist Adam Dalgliesh, from the award-winning author of Children of Men, Death Comes to Pemberley and The Murder Room.
Information
Format: Hardback
Pages: 416 pages
Publisher: Faber & Faber
Publication Date: 28/08/2008
Category: Crime & mystery
ISBN: 9780571242443
Free Home Delivery
on all orders
Pick up orders
from local bookshops
Reviews
Showing 1 - 5 of 8 reviews.
Previous | Next
Review by ElizaJane
16/06/2015
Reason for Reading: I'm a fan of P.D. James.Summary: Rhoda Gradwyn goes to an exclusive manor, which houses a plastic surgery and recuperation facility, out in the English countryside to have a large scar on her face removed, one she has had since childhood. The morning after the operation she is found strangled to death in her bed. Being only one of two patients, a nurse, an assistant doctor, a small household staff, and a couple of on property live-ins the suspect list is limited. Adam Dalgliesh is called along with his partner Kate to solve the death of this famous investigative journalist.Comments: It has been a while since I've settled down with Adam Dalgliesh and what a delight it was! James continues to write the quintessential British mystery, taking place in a house full of people where one them must be the murderer, and she both keeps the old-fashioned air to it while at the same time keeping it modern. There are many times when one really has no awareness of the time period, old stone cottages, an old manor way out in the country, bicycling instead of using the car, with nothing intrinsically modern standing out and yet we know the time is the present as people simply answer their cell phones, go to print something off the computer, speak of DNA, etc.James takes time to build her story, the first 100 pages or so are about the murder victim's life leading up to her murder. Adam Dalgliesh is a thinking man. He and his officer's ask questions, take statements and at the end of the day get together and piece together what they've got so far over coffee or wine. You won't find the hero running through the woods trying to capture the killer in this book. No, you'll find yourself baffled with the explanations, trying to figure out 'whodunit'. Then a second murder happens and suddenly all your theories are thrown out the window but AD doesn't seem fazed. He picks up the pieces and starts putting them back together.A very enjoyable mystery. I was shocked in the middle but by the time the reveal came at the end I'd figured it out too, but that didn't lessen my enjoyment. I really enjoy reading gruesome serial killer mysteries but sometimes there is nothing like sitting down with a master mystery writer such as P.D. James and experiencing not just a brilliantly crafted mystery but an intelligent one as well, written with James' wonderful command of the English language. I found myself reading sentences twice just because I like the way they are written. A very good book, but not for those who expect a quick, wild plot. The Private Patient is more for those who like to figure out an intriguing puzzle while getting to know an assortment of eccentric characters.
Review by smik
16/06/2015
We know right from the start of this novel that 47 year old Rhoda Gradwyn is only 23 days away from being murdered. She has decided to have a leading plastic surgeon remove a disfiguring facial scar that she has had for over 30 years. She goes to the surgeon's private clinic at Cheverell Manor in Dorset to have the operation. The operation is a success, but only hours later Rhoda Gradwyn is dead, throttled.This is an Adam Dalgleish book and James' fans have been waiting since the publication of THE LIGHTHOUSE in 2005 for the next. We are reminded of that book several times by the investigative team. THE LIGHTHOUSE was a variant on the closed room mystery: an island cut off from the mainland by bad weather with seemingly no-one coming and going, so the murderer had to be on the island. (see my mini-review: my rating was 5.0)What we have in THE PRIVATE PATIENT it seems is a variant of the same sort of scenario, only this time using an English country house as the backdrop. Cheverell Manor isn't quite as isolated as Combe Island was, but the list of possible perpetrators is limited. Many in the cast of characters have secrets to hide, the Manor itself was locked at the pertinent times, but there is a local legend about the nearby standing stones, just to complicate things.The thing that struck me most about THE PRIVATE PATIENT is how thoroughly it was plotted. I found it slow reading but I didn't grudge the time. P. D. James takes care of all her characters. Adam Dalgliesh is on the brink of marriage, and it seems that he is also on the cusp of a career change, with every likelihood that his Murder Squad will be redeployed after this case is finalised. Kate Miskin is due for promotion in the very near future, very likely to head her own team. James explores not only the relationships between the residents of Cheverell Manor, but also the way in which the members of Dalgliesh's team work together.So, yes, THE PRIVATE PATIENT is a very satisfying read, P.D. James still among the best.
Review by Romonko
16/06/2015
This is a book that should be savoured for a number of reasons. The first is that P.D. James has lost none of her talent for writing a novel that grips and holds you. Also, the book is more than just a little mystery story. There is a whole lot more here than that. It's a book that held me in its thrall right until the end. Of course we have Adam Dalgliesh, and we have his team (Kate and Benton). We also have an intriguing mystery when a private patient in a country clinic is found dead in her room. Adam and his team travel to Dorset to try to solve the murder. The book is complex and the murder is also. And last, but not least, there is a possibility that this may be the last Adam Dalgliesh book. Ms. James has certainly approached this issue throughout the book. I will be sad if that is so, but it is a wonderful way to end a brilliant creation! Ms. James is a wonderful author, and I truly revelled in this book. I put it down with a real sense of sadness, but I think it is a book that should be read more than once. A second and third reading may be in order in order that all the rich nuances can be grasped. I have to say, that although it is only the middle of October, I think this is the most significant book of fiction that I will read in 2008.
Review by refashionista
16/06/2015
Always reliable, P. D. James does not disappoint with her latest Adam Dagleish mystery. What starts out as a routine cosmetic surgery and recuperation in the country goes very wrong very quickly, and our favorite guy is on the job to figure it out. It's a whodunnit that kept me guessing until the end!
Review by the.ken.petersen
16/06/2015
There are signs that this may be the last Adam Dalgliesh mystery: rumours of the squad's demise, and doubts amongst the team are peppered throughout this book. I enjoyed the read but, can see that there is only so far that this series can go; and it may have reached its natural conclusion.As with most of the stories in the collection, this tale begins with a hundred plus pages building an air of foreboding. The scene is a well to do private clinic set in the countryside and the characters, who seemingly have everything going for them, all carry dark secrets. It is a closed community and so, inevitably, each person knows something of the other characters' hidden past but nobody knows it all. An investigative journalist books in for an operation to remove a scar and the underlying enmities lead to deadly circumstances. This is so clichéd that, in the hands of a less skilled writer, it would have become poor fare. P D James manages to retain the interest and, although the murderer becomes obvious before the end, James keeps an ace up her sleeve for the last few pages. The book does exactly what one expects of a good whodunnit; it is an unputdownable read. Thank you Commander Dalgliesh, I have enjoyed following your career.
Also in the Inspector Adam Dalgliesh Mystery series | View all