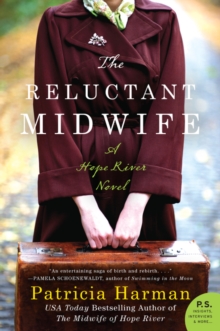 The Reluctant Midwife: A Hope River Novel
Paperback
Description
The USA Today bestselling author of The Midwife of Hope River returns with a heartfelt sequel, a novel teeming with life and full of humor and warmth, one that celebrates the human spirit. The Great Depression has hit West Virginia hard. Men are out of work; women struggle to feed hungry children.
Luckily, Nurse Becky Myers has returned to care for them.
While she can handle most situations, Becky is still uneasy helping women deliver their babies.
For these mothers-to-be, she relies on an experienced midwife, her dear friend Patience Murphy. Though she is happy to be back in Hope River, time and experience have tempered Becky's cheerfulness-as tragedy has destroyed the vibrant spirit of her former employer Dr Isaac Blum, who has accompanied her.
Patience too has changed. Married and expecting a baby herself, she is relying on Becky to keep the mothers of Hope River safe. But becoming a midwife and ushering precious new life into the world is not Becky's only challenge.
Her skills and courage will be tested when a calamitous forest fire blazes through a Civilian Conservation Corps camp. And she must find a way to bring Isaac back to life and rediscover the hope they both need to go on. Full of humor and compassion, The Reluctant Midwife is a moving tribute to the power of optimism and love to overcome the most trying circumstances and times, and is sure to please fans of the poignant Call the Midwife series.
Information
Format: Paperback
Pages: 432 pages
Publisher: HarperCollins Publishers Inc
Publication Date: 01/03/2015
ISBN: 9780062358240
Other Formats
EPUB from £5.49
eAudiobook MP3 from £17.49
Free Home Delivery
on all orders
Pick up orders
from local bookshops
Reviews
Showing 1 - 5 of 15 reviews.
Previous | Next
Review by etxgardener
16/06/2015
I received this book as an ARC from Harper Collins. <I>The Reluctant Midwife</I> is the second in author PAtricia Harman's Hope River series about a small West Virginia community. This volume, set in the mid-1930's features Becky Myers, a registered nurse who has returned to the area after living in Virginia where she worked for Dr. Isaac Blum. Dr. Blum has now suffered an extreme nervous shock caused by his wife's apparent suicide and appears to be in a catatonic state - uncommunicative and unable to care for himself. After the doctors at Johns Hopkins throw up their hands, his brother rejects him and Becky, for reasons that are unexplained, feels that she has care for him. They return to his home in West Virginia thinking they can live in his old house, but find that it has been sold for unpaid taxes. They then find help through Becky's old friend in the area, Patience Murphy, the county's midwife.Becky, although she dislikes midwifing duties, helps Patience with her practice and, indeed, takes it over when Patience becomes unable to perform her duties due to a difficult pregnancy. Becky also obtains employment as a part-time nurse at the local CCC camp nearby and slowly begins to find her place in the community as well as a means to support herself and Dr. Blum. She is sorely tested by a raging forest fire at the end of the book that seems to tie everything together in an unlikely conclusion.The book written in the first person with very short chapters that are more like diary entries than a narrative in a novel. Characters aren't really developed, nor are their motives explained. Also the story line of Dr. Blum's catatonia, which really isn't catatonia, and his somewhat miraculous "recovery" stretches belief - even in this type of novel. I still gave it three stars because the story keeps the reader turning the pages wondering what is going to happen next, and the setting in the 1930's will be instructive to those readers not familiar with the Great Depression and the government efforts to employ people through agencies like the CCC.
Review by tara35
16/06/2015
I really enjoyed this book, just as I enjoyed Patricia Harmon's first book. I read the first 100 pages in a flash, thanks to the storytelling of the author. This is the story of nurse Becky Myers, a friend of Patience Murphy, who finds herself back in Hope River with no money, no place to live, and a role as caretaker of her old employer Issac Blum. Luckily Becky has her nursing skills to fall back on which helps her earn a living and the trust of others. This book has a strong focus on the CCC, the Civilian Conservation Corps;the book informs us about the CCC in a way that manages to be both entertaining and educational. I had a couple issues with the book. First, sometimes language or expressions were used that were just too modern. For example, around 1919 someone describes fighting in WW1 as comparable to a horror movie. Not sure how many horror movies had been filmed by that time. I also had a hard time with the end of the book and the situation with Becky and Issac. Despite my 'issues' I found this to be a very enjoyable book and one I would recommend. It helps to have an interest in medicine and midwifery when choosing this novel.
Review by milibrarian
16/06/2015
In the midst of the Great Depression, registered nurse Becky Myers finds herself unemployed and caring for Dr. Blum who has not spoken since his wif'e's sudden death. When they become homeless, they move to West Virginia . As Becky tries to find work to provide food, gasoline, and other necessities, she goes from delivering groceries to delivering babies when her friend Patience, the area midwife, faces a high risk pregnancy and is confined to bed. She also works at the local CCC camp. Becky must face her fear of childbirth, deliver the local women's babies, and face some unusual demands at the camp (including a forest fire) while at the same time struggling with her feelings toward Dr. Blum.This was a fun read with interesting characters. Becky's determination to survive drives the novel. A good depiction of Appalachia and her people during a particularly difficult period of American history is heartwarming. The characters never give in to despair no matter how difficult their circumstances. Hope prevails.This is the second book in the Hope River series but can be read as a stand alone.
Review by Shuffy2
16/06/2015
When Becky's dear friend, the local midwife Patience Murphy asks for her help, can she refuse after all she has done for her?Nurse Becky returns to Hope River, WV as the Great Depression rages on and sets out to support herself and her former employer, Dr. Blum. With adversity around every corner, eking out a living becomes a bigger challenge than she bargained for. Can she juggle taking care of a semi-catatonic man and keeping food on the table? Is she willing to step even further outside her comfort zone?Overall the story kept me turning the pages but I did not feel a strong connection to the characters. It is a sequel to The Midwife of Hope River, which I did not read and wonder if I would have rooted for Becky and Dr. Blum more? I did not buy into the 'catatonic' Dr. Blum and had a hard time feeling sorry for his character nor did I feel sorry for Becky being stuck with him. The book is able to stand alone but cannot help but think that I was missing out on a few key character developments. While the title of the book seems to focus on her being a midwife, the story is so much more than her reluctantly delivering a few babies—it is about Becky being a nurse in a small, rural town in West Virginia.((Disclaimer: I received an advance copy of this book in error. It is not one I would have picked out on my own))
Review by Godsgirl
16/06/2015
I really liked this book and enjoyed the story. I learned a lot about the Depression in the 30's and the characters were all likable. The interesting but graphic details about the births were very interesting. I will definitely look for more of her books.