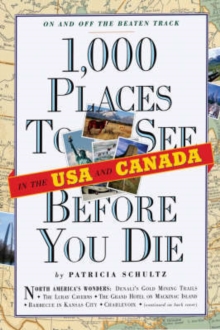 1000 Places to See in the U.S.A. and Canada Before You Die
Paperback
Description
Now, for the first time from the best selling travel author, Patricia Schultz, comes "1000 Places To See In The U.S.A. and Canada Before You Die". Sail the Maine Windjammers out of Camden. Explore the gold-mining trails in Alaska's Denali wilderness.
Collect exotic shells on the beaches of Captiva. Take a barbecue tour of Kansas City - from Arthur Bryant's to Gates to B.B.'s Lawnside to Danny Edwards to LC's to Snead's.
There's the ice hotel in Quebec, the Great Stalacpipe Organ in Virginia, cowboy poetry readings, what to do in Lexington after the derby's over, and for every city, dozens of unexpected suggestions and essential destinations.
The book is organized by region, and subject-specific indices in the back sort the book by interest - wilderness, great dining, best beaches, world-class museums, sports and adventures, road trips, and more.
There's also an index that breaks out the best destinations for families with children.
Following each entry is the nuts and bolts: addresses, websites, phone numbers, costs, best times to visit.
Information
Format: Paperback
Pages: 992 pages, photographs throughout
Publisher: Workman Publishing
Publication Date: 21/06/2007
Category: Travel & holiday guides
ISBN: 9780761136910
Free Home Delivery
on all orders
Pick up orders
from local bookshops
Reviews
Showing 1 - 5 of 5 reviews.
Review by angelthreads
16/06/2015
The book is not easy to read. I realize that it is a thick book, but I wish there were more places listed in each state.It is a place to begin.
Review by ArmyAngel1986
16/06/2015
The author seemed to avoid the problem she had in her other "1000 Places...", of too many hotels, but I was annoyed by how many entries there were for scenic mountain ranges and artsy towns. There were plenty of interesting listings, but I didn't enjoy this one as much as the first one.
Review by srtrent
16/06/2015
I have to say I was a little disappointed in this book. When I think of places that I absolutely must see, fancy hotels and expensive restaurants do not top my list. Having said that, though, there are still many places in this book that I did not know about and are now on my personal list of "must-see". I still feel that there are a lot of places that I am going to have to find out about elsewhere, but I'm sure there are people out there who would be glad to have the hotel and restaurant information as well.
Review by tess_schoolmarm
16/06/2015
Was somewhat disappointed, as most of the suggestions and ideas are at the upper end of the cost scales, bed and breakfasts for $425 per night, etc. Very little in the way of sites and attractions. Restaurants same thing. Also by the time you really read the book and then try to check out some of the places online, they are no longer in operation.
Review by ehimes
16/06/2015
Every spring when my husband and I start to feel the need to get out of town for a few days and take a road trip, I pull out this book and daydream.