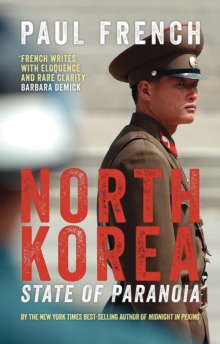 North Korea: State of Paranoia
Paperback
Description
North Korea continues to make headlines, arousing curiosity and fear in equal measure.
The world's most secretive nuclear power, it still has Gulag-style prison camps, allows no access to the Internet and bans its people from talking to foreigners without official approval.
In this remarkable and eye-opening book, internationally best-selling author Paul French examines in forensic detail the history and politics of North Korea, Pyongyang's complex relations with South Korea, Japan, China and America, and the implications of Kim Jong-un's increasingly belligerent leadership following the death of his father, Kim Jong-il.
As an already unstable North Korea grows ever more unpredictable, antagonizing enemies and allies alike, North Korea: State of Paranoia delivers a provocative and frightening account of a potentially explosive nuclear tripwire.
Information
Format: Paperback
Pages: 480 pages
Publisher: Zed Books Ltd
Publication Date: 08/05/2014
Category: Asian history
ISBN: 9781780329475
Other Formats
Paperback from £10.65
EPUB from £7.98
Hardback from £61.65
PDF from £7.98
Free Home Delivery
on all orders
Pick up orders
from local bookshops
Reviews
Showing 1 - 2 of 2 reviews.
Review by Carolee888
16/06/2015
North Korea: State of Paranoia: A Modern History by Paul French is truly a compressive cultural, economic, and political history. It starts from the time when Kim IL Jong took control the country after WW II with Stalin's Approval to the present.This little country, the size of New York is a powder keg of trouble. The theory that the Kims have used to govern their country is Juche, a strange mixture of Chinese, Russian and Korean political theory. The author goes into great detail about Juche. After reading that you begin to understand how the DPRK got into this mess and the corner that it has backed itself into.Reading this book is like taking a short intensive course on modern North Korea. I have sixteen pages of notes that I took. Did you know that the average worker's salary is $13 a month? Pyongyang has old dilapidated high rises with elevators that don't work. The diet is very basic rationed and scarce. People are malnourished. Socks and underwear are difficult to buy because they are hard to find. People keep the socks for special occasions, sticking to foot wrappings for every day. You have to register to have telephone service and the registration fee is so high that most people cannot afford it. They substitute phones with walkie talkies. Only a few have bicycles, not to speak of cars. It is a different world with a country still on food rations, even soy sauce is difficult to find. Yet the leaders are the objects of personality cults. This is perpetuated by the schooling. Children learn myths surrounding the Kim family. After reading this book, I know much more than I did about the DPRK but I also realize that there is a tremendous amount that we as outsiders still don't know.The personality cult is what is prevents the DPRK from falling apart. If change finally comes, what are the different possibilities? The author goes into possibilities and the consequences of the different paths that it could take.I highly recommend this book on North Korea for all who want to learn about this mysterious country.Even though I received this Advance Reading Copy as a win from First Reads, none of my thoughts or feeliings were influenced by that in this review.
Review by dhelmen
16/06/2015
An interesting, though somewhat awkwardly written, overview of North Korean politics and daily life. The end notes are not as extensive as i had hoped they would be. I would have been interested in delving further into some topics, and especially in looking into the sources of some of the information. A good book, which left me wanting more. Very interesting overview of North Korean politics.
Also in the Asian Arguments series | View all