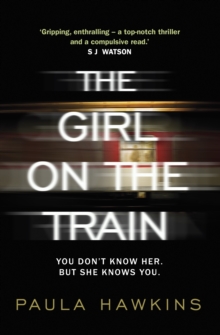 The Girl on the Train
Hardback
Description
This is the Number One Bestseller. You Dont Know Her. But She Knows You. Rear Window meets Gone Girl, in this exceptional and startling psychological thriller "Gripping, enthralling - a top-notch thriller and a compulsive read." (S J WATSON, bestselling author of Before I Go To Sleep).
Rachel catches the same commuter train every morning.
She knows it will wait at the same signal each time, overlooking a row of back gardens.
She's even started to feel like she knows the people who live in one of the houses. 'Jess and Jason', she calls them. Their life - as she sees it - is perfect. If only Rachel could be that happy. And then she sees something shocking. It's only a minute until the train moves on, but it's enough.
Now everything's changed. Now Rachel has a chance to become a part of the lives she's only watched from afar.
Now they'll see; she's much more than just the girl on the train...
Information
Format: Hardback
Pages: 320 pages
Publisher: Transworld Publishers Ltd
Publication Date: 15/01/2015
Category: Crime & mystery
ISBN: 9780857522313
Free Home Delivery
on all orders
Pick up orders
from local bookshops
Reviews
Showing 1 - 5 of 5 reviews.
Review by nicx27
16/06/2015
I love a good psychological thriller, and yes, this was a good one. Rachel is an alcoholic, divorced from Tom who now has a new wife, Anna, and a baby daughter who all still live in the house Rachel shared with Tom. Rachel takes the train everyday into London and passes her old house every time she goes there and back. She becomes fascinated by a couple in one of the other houses and concocts an idea of what their lives are like in her head but one day she sees something that spoils her view of them as the perfect couple.This book has been compared to Rear Window and I can see why. The idea of almost spying on people going about their lives and seeing something that changes everything. There are several unreliable narrators telling the story and because of that I never really knew who was telling the truth and who to trust. This aspect really kept me guessing until the end of the book approached.It lost a star because, like so many of this genre of book, there has to be a certain lack of believability to make the book work and I found this at the beginning of the book. But once I got to half way I raced through it and could hardly put it down. It's plotted well to bring all the strands together and this was where the different narrators worked because they all believed different things. I really enjoyed reading this book.Thank you to the publisher and Netgalley for providing a copy for review.
Review by shelleyraec
16/06/2015
A tense and twisty thriller, The Girl on the Train is garnering plenty of well deserved attention for debut author, Paula Hawkins.After a slightly bewildering start I was gripped by this chilling, tangled tale of love, hate and betrayal. Revealing much more than the back cover hints at risks spoilers that will ruin the surprises in store for the reader. I think it's important to unravel the secrets and lies as the author intended and to allow yourself to become caught up in the twists and turns of the plot.Astute readers may solve the mystery before the final pages but its unraveling is compelling. The conclusion may be a little neat but should also satisfy.Clever and disturbing in equal measure The Girl on the Train is an engrossing read, don't be fooled by the brevity of this review – I just don't want to spoil anything for you!
Review by tina1969
16/06/2015
Rachel travels on the same train everyday. When the train dliws at asignal she sees the same couple in one of the houses alongside the track. Rachel creates a life for the couple she calls Jess and Jason, but their life is far from the one created for them.There is a lot of hype around this book and its the new Gone Girl. I loved GG and for me it was a brilliant read. When other books are compared to and are the next one like a good book I feel it spoils it. This book was good, very good in fact but not it isnt GG. The shine was taken off this book because of tne hype.However the book was a good read and kept me guessing till the end. Some reviews found the book a slow start but I have to disagree as I fekt it was pacy all the way through. The concept was different and a little bit like Rear Window and I can see why it is compared to GG.I can highly recommend this book and it will appeal to anybody who did enjoy GG as it is that genre of donestic thrillers. A worthy read with plenty going on and it kept me guessing.
Review by LARA335
16/06/2015
One of those novels that force you to carry on reading into the small hours. Lonely, drunk Rachel commutes each day and imagines the lives of the golden couple she can see each day from the train window. And then gets involved. Great structure with three unreliable narrators taking up the story in different time periods.
Review by DubaiReader
27/01/2016
Overhyped.This was an enjoyable enough read but it certainly didn't 'forever change the way you look at other people's lives' as promised in the bumf. I also wouldn't put it in the same category as Gone Girl and The Book of You, both of which I abandoned.Although the narrative is provided by three women, Rachel, Anna and Megan, it is Rachel who is the main character. She is 'The Girl on the Train' of the title. Struggling with alcoholism, she can manage to go a few days without drinking but then binges and loses all sense of reality, forgetting important events and blacking out.Rachel passes Anna and Megan's houses as she does her daily commute on the train into London. Anna lives in the house that was once Rachel's home and Megan lives a few doors down. While Rachel hates Anna, she dreams up the perfect life for Megan and her husband, naming them Jess and Jason.Needless to say, everything is not as it seems and there are some great plot twists in this novel. Having said that, I'm not quite sure why this has received such hype, I was expecting something more involving and un-put-downable. I'm not a fan of psychological thrillers, so the fact that I finished it actually means it's not much of a thriller!