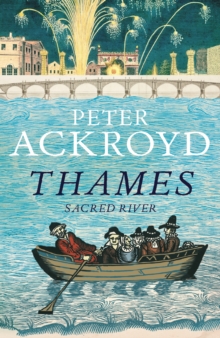 Thames : Sacred River
Hardback
Description
"Thames: Sacred River" is about the river from source to sea.
It covers history from prehistoric times to the present, the flora and fauna of the river, paintings and photographs inspired by the Thames, its geology, smells and colours, its literature, laws and landscape, its magic and myths, its architecture, trade and weather.
The reader learns about the fishes that swim in the river and the boats that ply on its surface; about floods and tides; hauntings and suicides; miasmas and sewers; locks, weirs and embankments. 'My fair lady' of London Bridge is Falling Down is identified as Eleanor, Queen of Henry lll; Mapledurham House near Henley as Toad Hall of Wind in the Willows.In AD 54, the river was 14 feet shallower than it is now, flowing sluggishly at low tide through sandbanks and swamps: thus Caesar and his legions could cross the Thames and defeat the British tribes. 1700 years later, malaria in the marshes of the estuary was so terrible that some men had 'from 5 to 6, to 14 or 15 wives' consequence, as Ackroyd writes drily, of mortality not profligacy. Here is Shelley floating on the river under poetical beech trees, Hogarth getting roaring drunk on a boatrip to Gravesend, William Morris wondering whether the same Thames water flowed past his windows in Hammersmith as flowed past his house at Kelmscott 100 miles upriver.Did you know that Pepys (in 1661) was the first to mention a dock on the Thames?
That 'toe-rag' (meaning despised individual) derives from sacking worn over the boots of workers in the grain and corn warehouses of Milwall Docks?
That hangings continued at Execution Dock until 1834?
Peter Ackroyd has a genius for digging out the most surprising and entertaining details, and for writing about them in magisterial prose.
Information
Format: Hardback
Pages: 512 pages, 90 images inc. colour & maps
Publisher: Vintage Publishing
Publication Date: 06/09/2007
Category: British & Irish history
ISBN: 9780701172848
Free Home Delivery
on all orders
Pick up orders
from local bookshops
Reviews
Showing 1 - 3 of 3 reviews.
Review by stveggy
16/06/2015
Long drawn out with tenuous links. Fairly dull for most of it.
Review by ishtahar
16/06/2015
Ackroyd takes the reader on a long meander along London's river from source to Sea, taking in anecdotes, historical fact, fiction art, life and death along the way. Beautifully written and fantastically researched as with all his books and probably best read as a companion guide to Ackroyd's earlier bestseller "London: the Biography". The beauty of this book is there is no timeline, no set journey, we wander in and out of the Thames and in and out of history, both fact and fiction and so we can dip into the book wherever and whenever we please. Highly recommended - half a star knocked off because sometimes there is just *too* much information!
Review by KirkLowery
16/06/2015
I enjoyed the book because the subject was new to me. The author doesn't know if he is writing a history, a travel book, or a prose poem. He fails at the latter and it blights his history and travelogue. I get really tired of his attempts to link Thames lore to classical mythology, except when he's talking about the Romans, of course. The pictures and photos are excellent. There's a case to be made that the Thames and Britain are closely linked in their history, that without the Thames, British history would have been very different, especially in regard to trade and military power.