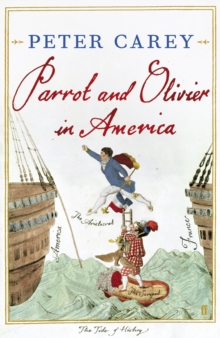 Parrot and Olivier in America
Hardback
Description
Olivier is an aristocrat, the traumatized child of survivors of the French Revolution.
Parrot the son of an itinerant printer who always wanted to be an artist but has ended up a servant.
Born on different sides of history, their lives will be brought together by their travels in America.
When Olivier sets sail for America, ostensibly to study its prisons but in reality to save his neck from one more revolution - Parrot is sent with him, as spy, protector, foe and foil.
As the narrative shifts between the perspectives of Parrot and Olivier, and their picaresque travels together and apart - in love and politics, prisons and the world of art - Peter Carey explores the adventure of American democracy, in theory and in practice, with dazzling wit and inventiveness.
Information
Format: Hardback
Pages: 464 pages
Publisher: Faber & Faber
Publication Date: 04/02/2010
ISBN: 9780571253296
Free Home Delivery
on all orders
Pick up orders
from local bookshops
Reviews
Showing 1 - 2 of 2 reviews.
Review by alexrichman
16/06/2015
A first foray in historical fiction, confirming my suspicion that I wouldn't really enjoy the old literary style and knowing winks to events and people I didn't care to learn about the first time around. I also wasn't too fond of the narrative switching between the two protagonists, as the timing always seemed a little off; however, the main characters were both very likable, and there was the odd chuckle here and there. Cautiously recommended.
Review by YossarianXeno
16/06/2015
This is the second Peter Carey novel I've read (the first was Jack Maggs), on both occasions - given the author's reputation - in hope of a great read, only to be relatively disappointed. In the case of Parrot and Oliver in America, the plot was intriguing enough: during the Napoleonic Wars an orphaned English boy, through twists and turns of the plot, becomes a servant of a French aristocrat. In the aftermath of the July 1830 revolution in France, that servant is sent to supervise the aristocrat's adult son trip to the US. The book then chronicles their American experiences, focusing on the cultural contrast between the hierarchal society they left behind and the open democracy they were in. But somehow, the author's style failed to bring the story to life. Though some scenes left vivid pictures in your mind, the plot is strangely discombobulated. Despite their various travails, the characters appear emotionally unaffected. Though there was just enough of interest to keep me reading to the end, I doubt I'll read another of Carey's novels.