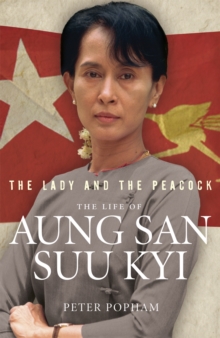 The Lady and the Peacock : The Life of Aung San Suu Kyi of Burma
Hardback
Description
Peter Popham's major new biography of Aung San Suu Kyi draws upon previously untapped testimony and fresh revelations to tell the story of a woman whose bravery and determination have captivated people around the globe.
Celebrated today as one of the world's greatest exponents of non-violent political defiance since Mahatma Gandhi, she was awarded the Nobel Peace Prize only four years after her first experience of politics.
In April 1988, Suu Kyi returned from Britain to Burma to nurse her sick mother but, within six months, found herself the unchallenged leader of the largest popular revolt in the history of Burma.
When the party she co-founded won a landslide victory in Burma's first free elections for thirty years, she was already under house arrest and barred from taking office by the military junta.
Since then, 'The Lady' has set about transforming her country ethically as well as politically, displaying dazzling courage in the process.
Under house arrest for 15 of the previous 20 years, she has come close to being killed by her political enemies and her commitment to peaceful revolution has come at extreme personal cost. In November 2010, after fraudulent elections in which she played no part, Suu Kyi was again freed.
She was greeted by ecstatic crowds but only time will tell what role this remarkable woman will have in the future of her country.
Information
Format: Hardback
Pages: 464 pages, Illustrations, maps
Publisher: Ebury Publishing
Publication Date: 03/11/2011
ISBN: 9781846042485
Free Home Delivery
on all orders
Pick up orders
from local bookshops
Reviews
Showing 1 - 1 of 1 reviews.
Review by justine28
16/06/2015
I've just finished reading "The Lady and the peacock" and what an interesting and eye-opening read it has been! Popham not only tells us the life story of THE famous human rights activist and one of Burma's finest and best-known persons, but also gives the reader a brief history of Burma since WWII until ca 2010 and explains the culture, traditions and mentality of the Burmese nation. There is a lot to learn from this book, therefore it may not be an easy read for those only getting interested in Burma's heartbreaking history. I also found the often non-chronological order of events a bit confusing at times, but all in all the book was rather clear and well written, with interesting comments and reflections and not just the dry facts.What I also liked about the book was the fact that it wasn't only a story of a politician or activist, but it offers quite an in-depth look into Suu's personal life: being famous parents' child, being a foreign student in Oxford, being a wife and a mother and finally being that individual who decides to make a huge sacrifice to make a difference. It's a very inspiring book altogether and I'm really glad I took the time to read it. Well worth reading!