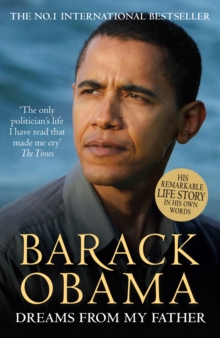 Dreams from My Father : A Story of Race and Inheritance
Paperback
Description
The son of a black African father and a white American mother, Obama was only two years old when his father walked out on the family.
Many years later, Obama receives a phone call from Nairobi: his father is dead.
This sudden news inspires an emotional odyssey for Obama, determined to learn the truth of his father's life and reconcile his divided inheritance. Written at the age of thirty-three, Dreams from my Father is an unforgettable read. it illuminates not only Obama's journey, but also our universal desire to understand our history, and what makes us the people we are.
Information
Format: Paperback
Pages: 464 pages
Publisher: Canongate Books Ltd
Publication Date: 05/06/2008
ISBN: 9781847670946
Free Home Delivery
on all orders
Pick up orders
from local bookshops
Reviews
Showing 1 - 5 of 5 reviews.
Review by tcarter
16/06/2015
I'm not usually one to go for politician's autobiography, so I was originally ambivalent about receiving this book as a present. However, having read it I'm glad I did. Obama tells his story, weaving together personal tales with the narrative of his heritage. The sections telling of his time as an organiser in Chicago reminded me somewhat of Ellison's Invisible Man. At times the various threads of family history seem confused and confusing, but maybe this is an important part of the tale. It allows the reader to identify, if only in a tiny way, with the complexities of Obama's heritage (although the observation that the reality of that complexity might be glimpsed through this lens might be so facile that it shows how completely I have failed to comprehend the situation :-)How important this book is will in the long run be decided by Obama's presidency. I found it to be a useful and illuminating introduction to the life experiences that have formed some of the beliefs of one of the most powerful people in the world.
Review by wendyrey
16/06/2015
If he is anywhere near as good a president as he is a wordsmith the world is going to be a much better and safer place.
Review by sirfurboy
16/06/2015
What a rare privelege it is to read a political autobiography that was clearly actually written by the subject, and is so forthright, honest and readable. There are no doubt other good examples of political biography, but I am not a big reader of the genre and consequently cannot think of one as good as this.This books greatest advantage is it was written long before Obama had any thought of being elected as president of the United States. Consequently he gives us the kind of reflective account that reveals the true man, without showing signs of editing by political advisers.Not that this book was written without any focus on future career. The book is reflective, but it is heavily influenced by issues of race and what it means to be a black man in modern America. The reader is left with an impression of a vision that is not spelled out in so many words, but hinted at. You feel that Obama has a hope for a new kind of conversation between races in America - but the book merely brings tensions and issues and hostory to the surface, without being in any way didactic.Ultimately though this is a personal story of Obama's own self discovery as he comes to terms with who his father was - the absent father he never knew. As he describes the family grave in Kenya, you have to wonder - was there ever a president of the United States befoe whose father's grave was so unaddorned (I suspect this has changed by now, of course - but nevertheless, the point is that you just feel so connected to Obama here).Elected the first black president of the United States, Obama's place in history is assured - whatever happens now. This book will be an invaluable aid to historians of the future - a real and personal first hand account in the words of the man that history will remember. Reading the book, and particularly his searching for faith in the churches of Chicago, I felt that maybe he has not yet found what he is looking for. The section closed on an emotional note, describing the sermon on "The Audacity of Hope" - a title he took for his next book. But nowhere did there seem to be any mention of the Christian gospel and how he responded to that personally. That is not a criticism of the book though - it is just something revealing in the work.All in all this was an excellent book. Off my usual subject matter but well worth reading.
Review by xprsg
16/06/2015
Quite an extraordinary book...shame I only got interested as it was written by a US president that was a bit apart from others. The book deserves to be read from a different perspective which was also easy to gain, as I realised only after I finished the book: I had forgotten about the author and his "current" predicament. The author's ability to recount vivid scenes as a narrative are extraordinary, and probably helped me in getting engaged.This was also incidentally the first auto-biographical book that I have ever "completed", and that is saying a lot. I usually get bored/doze off and stop reading other biographies I have tried to read.The book itself is very engaging too as you will soon start to draw parallels with your own life and tho that is not quite possible you see a glint of humanity that is reflected in relationships, dreams and hopes that surpases individual circumstances.Go and read it _now_! And remember to forget that he is the current US President.
Review by readingwithtea
27/08/2015
I'm now about 60% of the way through Dreams From My Father, by Barack Obama. I very much enjoyed his later book, The Audacity of Hope (oh wait, I can't link to my review of it because I haven't written it…) and when I spotted this audiobook available at the library I snaffled it.The first third or so was very, very interesting. The story of his first 20 years or so – growing up in Hawaii, moving to Indonesia, back to Hawaii again; the coming and going of his father, his mother's ambitions for him, the racial conflict he faces at secondary school, becoming aware of his mixed identity. So far, so good; well-written with interesting anecdotes and pithy reflection.We get through university and a job in New York, then he moved to Chicago and became a community organiser, and this bit really lost my interest. I understand much of what he is writing about, and it is clearly and concisely written, but it bored me. Probably because I don't understand what it was like to be poor and black in 80s/90s Chicago.He has just moved onto a visit from his half-sister Auma and their father in Kenya, so I'm hoping things will perk up a bit now.--------I have nothing really to add to my "initial thoughts" on this one - the last third of the book also failed to grab me. While the visit to Kenya and all of his family history is interesting enough, it dragged somewhat. I thought Audacity of Hope was much better.
Also by President Barack Obama | View all