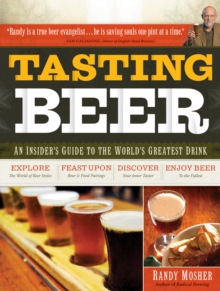 Description
Beer may be the common beverage of the people, but it is far from simple.
With 10,000 years of history, more than 900 identified flavours, dozens of styles, and thousands of breweries around the world, beer is as complex as its grape-based neighbors in the liquor stores.
It is an artistic creation, brewed from dozens of possible ingredients and processed in hundreds of different ways.
Mosher guides readers to a better understanding of how every batch of beer is affected by each of the brewmaster's choices - recipe formulation, brewhouse procedures, yeasts, fermentations, carbonation, filtration, packaging, and much more.
Beer can be light, dark, mild, strong, flat, or fizzy.
Hundreds of tastes can be detected in beer, from resin to toast, and from apple to smoke.
Readers will learn how to identify the scents, colors, flavors, and mouth-feel of all the major beer styles.
There are also chapters on proper serving and storage conditions, and classic beer and food pairings.
The second half of the book is a style-by-style compendium of the different brews within major beer families, including American craft brews, British lagers, German ales, and Belgian Dubbels. For each style there are historical and regional facts, taste and aroma characteristics, seasonal availability, food pairings, and a few terrific recommendations for readers to sample.
Information
Format: Paperback
Pages: 256 pages, full colour photographs & illustrations throughout
Publisher: Storey Publishing LLC
Publication Date: 13/03/2009
Category: Beers
ISBN: 9781603420891
Free Home Delivery
on all orders
Pick up orders
from local bookshops
Reviews
Showing 1 - 2 of 2 reviews.
Review by eeio
16/06/2015
Randy Mosher is a delightful writer. his descriptions of beer and food couldn't be more passionate. his sense of humor is impeccable. this book is filled with nice charts and pictures of what he calls Breweriana (that is beer's wealth of material culture: labels, glassware, bottles, even brewery floor plans). nice, friendly design. the charts are very entertaining and well made: beer styles by color, bitterness and beer style, there is even a graph of the relationship between original gravity and international bitterness units.although this book is not necessarily aimed at the homebrewer, if you are one, you will enjoy it. the book is aimed at the beer lover in general. it can get very specific at times but it's also an ongoing invitation to try things. the chapter on beer styles has suggestions for commercial brews to try, i feel it could be used as road map on my beer purchases. i like that Randy is knowledgeable and playful at the same time. he can go from almost reverence to beer styles and the proper way of tasting them and enjoying them to wacky suggestions on mixed beer drinks (there is a recipe for beernog of all things). i like this book a lot. i'm not sure it would be a proper introduction to beer in general -it's not a beginner's book- but i haven't found that book yet and i wouldn't hesitate in recommending it regardless of your level of beer geekiness.
Review by Tatoosh
27/08/2015
An authoritative accounting of the history and present status of beer.