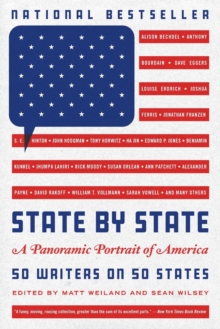 State by State : A Panoramic Portrait of America
Paperback
Description
Editors Sean Wilsey and Matt Weiland have turned to 50 of the finest, funniest, and foremost writers in America to create a state by state celebration of their country: Jonathan Franzen on New York, Louise Erdrich on North Dakota, Dave Eggers on Illinois, Ann Patchett on Tennessee, Jhumpa Lahiri on Rhode Island - the list goes on.
At turns poignant and hysterical, and uniformly insightful, these fifty writers capture the beauty, the kitsch, the unexpected and the quintessential things that make America.
There is something and someone in State by State for everyone.
With a roster of bestsellers and award winners, from Ann Patchett to Rick Moody to Myla Goldberg, Wilsey and Weiland have culled the best of the best from the literary creme de la creme to write on something all Americans are interested in: our country.
Information
Format: Paperback
Pages: 608 pages, black & white illustrations
Publisher: HarperCollins Publishers Inc
Publication Date: 01/11/2009
Category: Travel writing
ISBN: 9780061470912
Free Home Delivery
on all orders
Pick up orders
from local bookshops
Reviews
Showing 1 - 3 of 3 reviews.
Review by figre
16/06/2015
From 1935 to 1943, the WPA, through the Federal Writers Project, produced a book for each of the (then) 48 states. Matt Weiland and Sean Wilsey used this idea as the basis for this book, an essay for each of the (now) 50 states, as well as Washington D. C. No doubt, reading the original books would be fascinating (for a number of reasons), but this collection is no piker. In fact, it is a very good collection by a wide range of writers.Here's the thing. I'm assuming that the original project focused on the states. This collection really focuses on the writers. In fact, the best essays are the ones that reveal the author, rather than the ones that try to reveal the states. The writers are interesting people who have interesting stories to tell.I'll use Arizona (my home state) as an example. The author spends a lot of time describing the Tucson desert, and her neighbors, and her move to the area, and it fails to resonate. (Aside: I wonder if this happens to everyone? Is everyone hyper-critical about the essay on their own state? I think I would have felt better if they had picked someone with more history in the state. Anyway…) She is writing as a newcomer who has nothing to add to our understanding of the state. For the successful essays, the author may have deeper roots in the state, or a different story for why they are in the state, or, at the very least, a revelation about themselves as it relates to the state. Again – about the author works; about the state, not so much.But that is a quibble. This is an interesting and varied collection. Sure there are a couple of low spots. How can 52 essays (the second introduction is really another essay) not have some valleys. But the valleys aren't deep, and the hills are quite lofty. Throw in a nice collection of photos (chosen by each author to represent the state they wrote about) and a fascinating collection of statistics in the final appendix (everything from population by state to alcohol consumption and roller coasters per capita by state) and it is a really good book.
Review by debs4jc
16/06/2015
Our marvelous country is so varied--and perusing the various essays of this book will definitely reinforce that fact. Each is wonderfully different, some even are done in graphic novel form, as talented authors with connections to each state (i.e. Augusten Burroughs for New York) share their impressions of it. I enjoyed many of these glimpses into the diverse ways of life and geography of our United States. This would be a great read for someone new to the U.S. or who enjoys travel.
Review by Jenners26
16/06/2015
As with all collections with essays by various authors, the results are somewhat uneven. However, I can't imagine anyone who lives in or has traveled extensively in the United States not being interested in how the states they have lived in or visited are portrayed. I was thrilled that Anthony Bourdain took on my home state of New Jersey (and did a good job with it), and I thought it fitting that Oregon's entry was one of the few in the form of a "comic" strip (which prominently featured rain and umbrellas). Looking back now, the essay I remember the most fondly was Dave Eggers's take on Illinois. Although I read this book straight through, I think the better approach would be to read one or two states a day—or just dip your toes in every so often. In addition to the essays, there are little factoids about each state that were interesting in their own right.