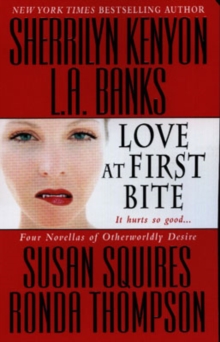 Love at First Bite : WITH "Until Death Do Us Part" AND "Ride the Night Wind" AND "Gift" AND "Forgotten"
Paperback
Description
Over five hundred years ago, Esperetta's soul was bound to her husband's by dark magic, and when Velkan became a Dark-Hunter, to her horror, she became immortal as well.
Now, they must come together to fight an old enemy...and the passion that threatens to consume them once more.
In "Ride the Night Wind" by L.A. Banks, dark dreams haunt Jose Ciponte, dreams of a woman so beautiful he aches for her-and a deadly enemy who stalks them in the night. And now those dreams have become a reality...In "The Gift" by Susan Squires, all Major Davis Ware wants to do is propose to the beautiful Emma Fairchild.
Instead, he is called back into battle, and a desperate fate. And Emma will venture into hell itself to save him. In "The Forgotten One" by Ronda Thompson, Lady Anne Baldwin longs to break free from her proper bonds.
When she meets the mysterious Merrick, whose eyes glow like a wolf's, she may have found more than she bargained for.
Information
Format: Paperback
Pages: 384 pages
Publisher: St Martin's Press
Publication Date: 24/11/2006
Category: Romance
ISBN: 9780312349295
Free Home Delivery
on all orders
Pick up orders
from local bookshops
Reviews
Showing 1 - 5 of 8 reviews.
Previous | Next
Review by damnadh77
16/06/2015
The best part of this book is Sherrilyn Kenyon - who has never been a disappoinment to me...
Review by rocalisa
16/06/2015
Until Death We Do Part by Sherrilyn Kenyon (9/10)Paranormal Romance. Short story in Love at First Bite Anothology. It was actually a good little story; deliberately Romeo and Juliet based on Dracula's daughter and her star crossed lover. Both "survived" their untimely deaths and are still fighting about it today, but need to make up.
Review by Jebbie74
16/06/2015
This was the first book/short stories that I have ever read by Kenyon or Banks. I never thought I would be interested in the paranormal romances, but this one definately was a great read. I was a little iffy on the third story as I'm not much one for reading about different eras other than our presnt one, but it was still well written.
Review by Jenson_AKA_DL
16/06/2015
Overall I wasn't very impressed with the stories although I certainly did like some more than others. All of these stories take place as middle stories in each authors' ongoing series which can be good or bad depending on how you look at it. I'll comment on each individually from the one I liked best, to the one I liked least.My favorite was the short, <i>The Gift</i> by Susan Squires. This one only actually beat out Ronda Thompson's story on the basis that it did introduce me to a new to me vampire series that sounds rather interesting. In this story a young soldier, Davie Ware, still suffering PTSD like flashbacks from enslavement by a vampire priestess, leaves the woman he loves behind to fulfill an obligation he feels to his commanding officer, Ian Rufford (apparently the hero from the first book of her series). I liked this one for the way it worked the series storyline in smoothly and didn't just leave you saying, "huh?" after reading it. For the length, it was well written with an interesting plot and fully idealized characters.Ronda Thompson's, <i>The Forgotten One</i> takes place between the second and third books of her Wild Wulfs of London series which, coincidentally, is exactly where I am in the series. Merrick is a stable master hired to work at the Blackthorn Manor wanting nothing more than to work with horses and every opportunity to stick it to the man (of course this being of a historical setting it was not said in precisely those words). Lady Anne Baldwin is an orphan raised by her aunt and uncle at her ancestral home. Sick of her own, boring, biddable ways Anne has decided to rebel and finds the handsome stable hand a willing accomplice. I've enjoyed all of Thompson's other Wulf stories and this one was no exception. As a whole this is definitely one of the better werewolf romance/historical series I've read.<i>Until Death Do Us Part</i> is a short Dark-Hunter tale of human sorcerer and soldier, Velkan, who becomes a DH to avenge the murder of his bride, Esperetta, at the hand of her father (a very famous vampire). Although interesting enough this story lacked the spark some of Kenyon's other stories have. I can't say it is totally due to the diminutive length, although that could be part of it, because I've read other short stories by her that I felt more involved in. Still it is gratifying to add another DH notch to my read repertoire which may give me some otherwise unknown background for stories in the future.The L.A. Banks story, <i>Ride the Night Wind</i> managed to annoy the heck out of me within the first couple paragraphs and all went downhill from there. Whenever you have a story that tries to convince you how sorry you should be for a young man living with his mother and henpecked because he doesn't do housework...well it's just wrong. Of course, it was illuminated from there how much of a horrible harpy not only his mother but his heroine to be's mother is which only served to antagonize me further. Oh pity the whiddle children who must help out in the house!! Ugh. Add in the fact I was less than impressed with the writing style itself along with the way it was assumed you knew what the heck the author was talking about within the context of her series and it was just a total crash and burn for me. I had the first two Vampire Huntress books in my tbr pile and have already offered them up on BookMooch. I'm not going through that again.Despite a couple highlights, this anthology was a far cry from the best I've ever read and with the exception of the Squires story I am not so sure they could be considered a very good introduction to any of these series.
Review by wyvernfriend
16/06/2015
A very mixed bag of stories, two contemporary and two modern, all of which are paranormal romances.Sherrilyn Kenyon brings Dracula into her reality, in this story his daughter has to deal with her husband that she believes ill of from a long time ago. He bound her soul to his and when he took Artemis' offer she became immortal too. Pretty typical of her stuff.The second is LA Banks'. Two teenagers find themselves dealing with abilities and evil, they find themselves attracted to each other.Susan Squires' the Gift is an interesting tale of vampires and choices.My favourite was Ronda Thompson's The Forgotten One. Lady Anne Baldwin has found herself beginning to be tired with the restraint of her life and a new stable manager helps knock her life out of it's usual bounds. Altogether a fun set of stories, nothing too amazing but good for it's type.