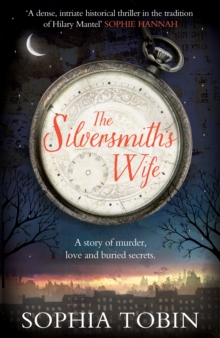 The Silversmith's Wife
Hardback
Description
Stunning historical fiction, perfect for fans of Tracy Chevalier.
The year is 1792 and it's winter in Berkeley Square.
As the city sleeps, the night-watchman keeps a cautious eye over the streets and another eye in the back doors of the great and the good.
Then one fateful night he comes across the body of Pierre Renard, the eponymous silversmith, lying dead, his throat cut and his valuables missing.
It could be common theft, committed by one of the many villains who stalk the square, but as news of the murder spreads, it soon becomes clear that Renard had more than a few enemies, all with their own secrets to hide.
At the centre of this web is Mary, the silversmith's wife.
Ostensibly theirs was an excellent pairing, but behind closed doors their relationship was a dark and at times sadistic one and when we meet her, Mary is withdrawn and weak, haunted by her past and near-mad with guilt.
Will she attain the redemption she seeks and what, exactly, does she need redemption for...?
Rich, intricate and beautifully told, this is a story of murder, love and buried secrets.
Information
Format: Hardback
Pages: 432 pages
Publisher: Simon & Schuster Ltd
Publication Date: 16/01/2014
Category: Historical fiction
ISBN: 9781471128080
Free Home Delivery
on all orders
Pick up orders
from local bookshops
Reviews
Showing 1 - 3 of 3 reviews.
Review by Carpe_Librum
16/06/2015
* Copy courtesy of The Reading Room *Set in 1792, The Silversmith's Wife takes place in London's Berkeley Square and is Sophia Tobin's first novel.Pierre Renard is an ambitious silversmith found by the night watchman with his throat slashed and his belongings stolen, much to the shock of his wife Mary.I was immediately drawn to The Silversmith's Wife with its gorgeous cover and the hope of finding out more about the night watchmen of London during this era. When I read At Day's Close - A History of Nighttime by A. Roger Ekirch I was enthralled by the 'night watch' whose job it was to patrol the streets, apprehend criminals or thieves, watch for signs of fire and call out the time.The night watchman in The Silversmith's Wife was a dark and intriguing character, but I was just begging him to call out the time or an 'All's Well' but sadly he never did.However, what I did find was a story centred around Mary and a few central characters in what I would call a character based (rather than action based) whodunnit. It was interesting (and frustrating) to read how Mrs Renard was treated - both as a wife and a widow - and the several characters who had motive to kill the pompous Pierre Renard.The Silversmith's Wife captured the life and times of London in the 1790s very well although I would have loved more detail on the art of making and producing the pieces of silver described in the novel.Readers are not left hanging in this whodunnit with a timely confession at the end that I didn't see coming. An enjoyable read.
Review by AdonisGuilfoyle
16/06/2015
I really, really thought I would enjoy this novel - set in eighteenth century London - but the story was slow-paced and the characters not real or lively enough to hold my interest. Instead, while counting down the minutes on my Kindle, I occupied my brain thinking up alternative titles, like <i>Eighteenth Century EastEnders</i> (seriously, everyone is miserable) or <i>The Silversmith, His Wife, Somebody Else's Wife, Her Maid, and Another Silversmith</i>.I'm not even sure what was going on, or why I'm supposed to care. A smarmy silversmith is bumped off in Berkeley Square, his body found by the nightwatchman, and his already long-suffering wife is made to suffer even more as his widow. Two very unconvincing toffs who live on the Square, and the lady's maid, are somehow involved. A gifted but moody silversmith - yes, another one - returns to London from Chester to help his ailing brother, who worked for the dead silversmith. Or some such. Everyone has a secret, and nobody is happy. Also, I wasn't overly convinced by the author's depiction of London in the Georgian era, either (although I'm sure she did her research, antique silver being her former day job). All the ingredients are there, but the recipe just didn't work for me.
Review by smik
16/06/2015
The year is 1792, there is Revolution in France, King Louis XVI is beheaded, and in Berkeley Square London the French silversmith, Pierre Renard, is found with his throat slit. The London middle class is expecting Republicanism to skip over the English Channel at any moment.The narrative is told in two streams. The immediate present is actually 1793 and Pierre Renard has been dead a number of months. His will reveals a vindictive side to his nature that was not obvious during his life. Each chapter begins with an extract from a secret diary that Pierre Renard kept from April to October 1792. In it the reader learns of his disdain for his wife Mary, and of his passion for the wife of one of his clients. The remainder of each chapter relates to the main plot strand which is the search for the truth about who killed Pierre Renard.With a historical novel, I always look to see how well the novel tells us of the historical background. There was much more that THE SILVERSMITH'S WIFE could have done. I felt that it relied very heavily on knowledge I already had, while there were rather oblique references to the period, which will leave some readers puzzled. I was more comfortable with the sense of social history that it conveyed.So the novel does well enough as a murder mystery, but not so well in an historical sense.