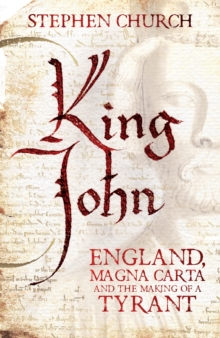 King John : England, Magna Carta and the Making of a Tyrant
Hardback
Description
No English king has suffered a worse press than King John: but how to disentangle legend and reality?The youngest of the five sons of Henry II and Eleanor of Aquitaine, the empire builders of the Angevin dynasty, John had small hope of securing any significant inheritance. Then, in 1199, on the death of his older brother Richard, John took possession of the vast Angevin lands in England and on the continent.
But by his death in 1216, he had lost almost all that he inherited, and had come perilously close to losing his English kingdom, too. Drawing on thousands of contemporary sources, Stephen Church tells John's story - from boyhood and the succession crises of his early adulthood, to accession, rebellion and civil war. In doing so, he reveals exactly why John's reign went so disastrously wrong and how John's failure led to the great cornerstone of Britain's constitution: Magna Carta. Vivid and authoritative, King John: England, Magna Carta and the Making of a Tyrant is history at its visceral best.
Information
Format: Hardback
Pages: 352 pages
Publisher: Pan Macmillan
Publication Date: 12/03/2015
Category: British & Irish history
ISBN: 9780230772458
Other Formats
Paperback from £8.59
EPUB from £5.75
Free Home Delivery
on all orders
Pick up orders
from local bookshops
Reviews
Showing 1 - 1 of 1 reviews.
Review by drmaf
27/08/2015
A worthy, but somewhat pedestrian account of the life and reign of England's most despised king. In this the 800th anniversary year of Magna Carta, interest in King John has been much in evidence, and there sure sure to be a swag of books about him, his reign, and the significance of the Great Charter. Its to be hoped that the next books are just a bit more lively than this one. Meticulously researched, well organised and put together, but never really fleshes out John's character, and he remains really just a depiction of the documents that recorded his reign. I never have much time for people who say history is boring, but I can probably understand where are they coming from when I read books like this. I actually did enjoy this book and found it very interesting and informative, but then I am accustomed to reading the driest of academic texts and finding them interesting too. Content-wise, this book is excellent. Church book-ends the story with the two things most associated in the modern mind with John - one fictional, one factual. They are, of course, Robin Hood and Magna Carta. He disposes of the Robin Hood myth in one terse paragraph in the introduction, pointing out that John was not associated with the Robin Hood legend until more than two centuries after his death, the creation of a writer from the Tudor era. He then deals with the Magna Carta properly, in its chronological place at the end of the book, coming as it did towards the end of John's life. In between, the story basically deals with John's catastrophic dealings with France, in which he managed to lose virtually all of the territories he held across the Channel. Despite the title of the book, Church never does really nail down whether or not John was a tyrant, although the question of whether he was a disaster as a king seems quite comprehensively settled. As I said, I did find this book worth reading and interesting, but whether it would appeal to a wider audience, I'm just not sure.