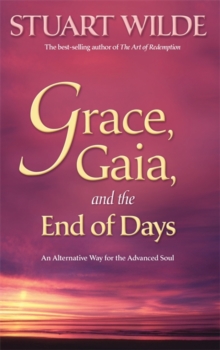 Grace, Gaia and the End of Days : An Alternative Way for the Advanced Soul
Paperback
Description
'The divine wind of grace offers you hope and good fortune; it can cure everything.
It can grant you an invisible protection, a miraculous healing; it can offer you visions through what I call 'pure information,' which is downloaded data that comes to you directly as visions, extrasensory perception, and dreams.
Grace can carry you to dimensions and places of learning far beyond anything discovered by human beings before.
Grace can grant you clemency for your darkness and liberate you.
Grace is pure love, a great gift, the Sacred Healer, but it is one that is poorly understood.' - Stuart Wilde In this uniquely fascinating book, Stuart Wilde gives you the keys to levels of metaphysical comprehension and sophistication not normally understood.
According to him, we are living in the era of the goddess Kali's return, the Age of Destruction, when the self-correcting intelligence of the planet (Gaia) will take back Earth on behalf of the animals, nature, and the little children.
There are battles currently raging in the spiritual worlds, waged by the forces of light and against the dark entities in order to free us all. Stuart describes a power he calls the Solar Logos, which will come to Earth to deliver a rebirth known as the Renewal.
As such, he calls this time the 'End of Days'-not because the world will end, but because it is the end of the world as we know it.
Information
Format: Paperback
Pages: 264 pages, black & white illustrations
Publisher: Hay House Inc
Publication Date: 26/03/2009
Category: Thought & practice
ISBN: 9781401920067
Free Home Delivery
on all orders
Pick up orders
from local bookshops