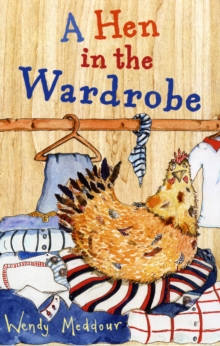 A Hen in the Wardrobe
Paperback
Description
Ramzi's dad is acting very strangely. He climbs trees in the middle of the night, and even goes into Ramzi's wardrobe looking for a hen.
The trouble is, he's sleepwalking because he's homesick for his native Algeria.
So Ramzi, Dad and Mum go back to Dad's Berber village in the desert region of North Africa, and Ramzi meets his Berber grandmother and cousins, and even braves the scary Sheherazad.
But can Ramzi help his dad and what will happen when they get back home again.
This is a funny, heart-warming family story by an exciting new author, set in Britain and Algeria, with fascinating glimpses of traditional Berber culture and lots of colourful characters.
Information
Format: Paperback
Pages: 160 pages, black & white illustrations
Publisher: Frances Lincoln Publishers Ltd
Publication Date: 02/02/2012
Category: General
ISBN: 9781847802255
Free Home Delivery
on all orders
Pick up orders
from local bookshops
Reviews
Showing 1 - 5 of 5 reviews.
Review by pbhagyam
16/06/2015
This delightfully, descriptive tale takes you along for an adventure as Ramzi travels with his loving family from England to Algeria, his father's childhood home, in hopes of curing his father of his sleepwalking problems. Through Ramzi, the reader experiences many of the joys of visiting family living in North Africa and the challenges his family had in being part of two cultures, with families in two distant countries. This is a heart-warming story, and it familiarizes children to some special Algerian (North African) customs that are captivating.
Review by laurensx
16/06/2015
Ramzi is determined to help his dad overcome sleepwalking. With the help of Shaima, Ramzi's friend, he embarks on a journey which ultimately takes he and the family back to the father's native Algeria. There, Ramzi encounters a few adventures which help him grow both as a person and a stronger son.This is a sweet story, however the audience is very limited. If a child reading this book is unfamiliar with Muslim and Algerian culture, they would need to be scaffolded in understanding the aspects of these cultures. Also, there is a chapter where the family is at the airport before heading to Algeria, and are enduring the required security checks. Wendy Meddour, the author, obviously wanted to say more about this event in the story, but didn't quite get to it. I didn't necessarily think this event warranted so much attention, or rather, Meddour's message was missed by this reader.
Review by KWROLSEN
16/06/2015
I thought this short chapter book was a nice read with a great message for children. Aside from it being a funny and engaging tale, children are exposed to Algerian culture and words. I thought the story was well written, witty, and showed the determination of a young boy to help his father. I appreciated the glossary in the back of the book and would love to try to cook Nana Ramadan's Special Crunchy Biscuits.
Review by jramoly
16/06/2015
As an elementary teacher, I can see many positive aspects to having such a diverse book in the classroom library. Teachers need to be forewarned that the main characters in the story are Muslim. While the story is not harping on religion or trying to teach a faith, teachers need to be aware of the fact beforehand, so they can better prepare to deal with parents who may have concerns about their child reading a book that deals with a specific religion.All that being said, it is a wonderful story of a sleep-walking man, and a son who will do anything to help his father. An interesting way to teach children that no matter what race or religion, people are people, and still deal with the same issues: finding friends, going to school, being afraid, etc.
Review by Ms.Elkins
16/06/2015
Charming story about a boy whose family goes to visit his relatives in Algeria, in an attempt to cure his father's sleepwalking. Interesting description of the culture and landscape of Algeria. Includes a glossary of Arabic terms used in the book and a recipe. My only complaint is that on page 106 there is a dig at the French which is unfortunate in a book touted for its multiculturism. Should appeal to strong second grade readers up to fifth grade.