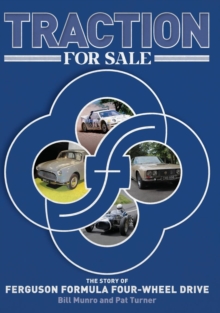 Traction for Sale : The Story of Ferguson Formula Four-Wheel Drive
Hardback
Description
Four-wheel drive cars and trucks are commonplace today; luxury off-roaders and utilities of all shapes and sizes are seen everywhere, but it was not always so.
The Ferguson name is as important in the field of four-wheel drive as it is in tractor development and this is the story of the research and development behind it and the struggle to get that technology accepted as comprehensively as it is today.
But more than technology itself, Traction for Sale tells the story of the men behind it; Fred Dixon, who first though of the idea of a super-safe family car with four-wheel drive, Harry Ferguson, who gave his name and the full weight of his fortune and dedication to it and Tony Rolt, whose unfaltering drive and conviction made it all happen.
Then there were teams of brilliant engineers and mechanics, working at the cutting edge of automotive development. Featured are the stories of Ferguson's fasciating research cars, including the Ferguson-Climax grand prix car, the most famous cars that use Ferguson Formula four-wheel drive, including the Jensen FF, the Indianapolis and Formula One race cars and its systems that use its most important component, the Viscous Control Unit, which includes the most prominent Group B rally cars and their successors, Ford's Sierra and Scorpio 4x4, many Jeep models, later Range Rovers and Audi quattros and the Jaguar X-Type as well as those for which FFD supplied essential transmission components, the McLaren F1 and Jaguar XJ220 supercars, and family car makers Mazda and Volkswagen
Free Home Delivery
on all orders
Pick up orders
from local bookshops
Also by Bill Munro