Family Favourites on DVD & Blu-ray
As we all know, British weather can be a tad unpredictable at times, and sunny summer days are not always guaranteed. Our selection of family favourites are the perfect way to keep boredom at bay on those less-than-cheery days.
With something suitable for all ages, why not grab a steal from our family favourites under £5, or choose something for the little ones to enjoy from our great range of children's titles?
Browse Popular Family Films
Family DVDs
Features
Popular Movie Series
Recently Released Bestseller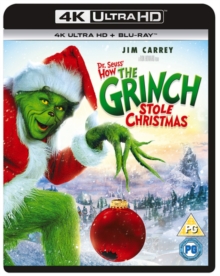 Festive family comedy directed by Ron Howard. The Grinch (Jim Carrey) is a grouchy green monster who lives high up on a mountain overlooking the town of Whoville.
The Grinch hates happiness, hates merriment, and most of all, hates Christmas.
So one year, as the festive season approaches, he decides that enough is enough and draws up plans to steal all of the decorations and presents from the poor,...
Roald Dahl Adaptations