Horror on DVD & Blu-ray
We have a huge range of scary films and TV shows on DVD and Blu-ray, plus all those horror cult classics to add to your collection. Here you'll find bestsellers, plus new releases and pre-orders on DVD and Blu-ray.
Why not have a browse and discover some horror films and TV shows, We have classics such as the The Exorcist and Evil Dead as well as more modern franchises such as The Conjuring and Paranormal Activity. Prepare to be scared!
Bestselling Horror films on DVD & Blu-ray
Top Horror features
Popular Horror Films and Categories
Horror on DVD & Blu-ray
Popular Features
Recently Released Bestseller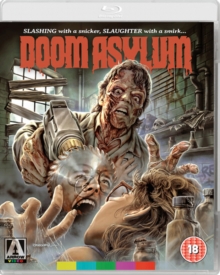 US horror co-written and directed by Richard Friedman.
After seemingly being killed in a car accident, Mitch Hansen (Michael Rogen) comes back to life during his autopsy and murders all of the medical examiners involved in the procedure.
Ten years later, a group of young friends stumble across the asylum where Hansen was held and soon find he still roams the building looking for his next victim.
The...