Horror on DVD & Blu-ray
We have a huge range of scary films and TV shows on DVD and Blu-ray, plus all those horror cult classics to add to your collection. Here you'll find bestsellers, plus new releases and pre-orders on DVD and Blu-ray.
Why not have a browse and discover some horror films and TV shows, We have classics such as the The Exorcist and Evil Dead as well as more modern franchises such as The Conjuring and Paranormal Activity. Prepare to be scared!
Bestselling Horror films on DVD & Blu-ray
Top Horror features
Popular Horror Films and Categories
Horror on DVD & Blu-ray
Popular Features
Recently Released Bestseller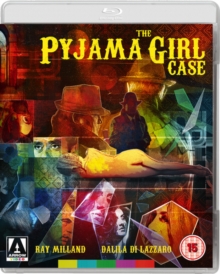 Italian crime thriller co-written and directed by Flavio Mogherni.
Retired policeman Inspector Thompson (Ray Milland) returns to active service when the corpse of a young woman with a horribly mutilated face is discovered on the local beach.
Not satisfied that the suspect held by the local police is the correct one, Thompson sets out to conduct his own investigation into the mysterious case.
The...