Horror on DVD & Blu-ray
We have a huge range of scary films and TV shows on DVD and Blu-ray, plus all those horror cult classics to add to your collection. Here you'll find bestsellers, plus new releases and pre-orders on DVD and Blu-ray.
Why not have a browse and discover some horror films and TV shows, We have classics such as the The Exorcist and Evil Dead as well as more modern franchises such as The Conjuring and Paranormal Activity. Prepare to be scared!
Bestselling Horror films on DVD & Blu-ray
Top Horror features
Popular Horror Films and Categories
Horror on DVD & Blu-ray
Popular Features
Recently Released Bestseller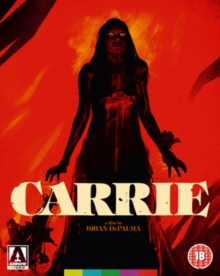 Brian De Palma directs this horror adapted from Stephen King's novel.
Carrie (Sissy Spacek) is a gawky, unloved teenager whose awakening sexuality is at odds with her puritanical mother's fanatical teachings.
Physically abused at home and shunned at school, an unexpected prom invitation seems to be Carrie's first chance at happiness.
But when the prom night ends in a vicious practical joke, Carrie's...