Comedy on DVD & Blu-ray
If you like a laugh you've come to the right place! Here you'll find some of the funniest movies and TV shows, both past and present, along with the best in stand-up comedy. From cartoon comedy, to those addictive TV box sets. Look no further for a great selection of comedy on DVD.
Popular features in Comedy
Browse TV Comedy
Comedy on DVD & Blu-ray
Features
Popular Comedians
Recently Released Bestseller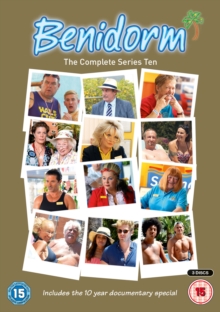 All nine episodes from the tenth series of the ITV sitcom set among the Brits abroad at the all-inclusive Solana resort in Benidorm.
In this series, Solana manageress Joyce Temple-Savage (Sherrie Hewson) prepares for her wedding to Monty (John Challis), but all does not go according to plan on the big day.
Elsewhere, the Dawsons meet Rob (Josh Bolt)'s girlfriend Cyd (Laila Zaidi), Joyce interviews...