Science Fiction, Fantasy & Horror
Popular Genres
Popular Authors in Science Fiction
Top Science Fiction Authors
Top Fantasy Authors
Top Horror Authors
Popular Series
Arthur C Clarke
Books include: 2001: A Space Odyssey, and 3001: The Final Odyssey
Charlaine Harris
Books include: The True Blood Series , the Aurora Teagarden series and Grave Surprise.
Clive Barker
Books Include: The Hellraiser series, Arabat and the Scarlet Gospels.
A Game of Thrones
Books include: A Clash of Kings and the new book in the series A Dance with Dragons Pt2.
David Gemmell
Author of: The Rigante Series, and White Wolf.
George R.R Martin
Books include: The Song of Ice and Fire Series , and Dream Songs.
Dean Koontz
Dean's titles include: The Frankenstein Series and Watchers.
Discworld Series
Books include Going Postal, Thud! and Carpe Jugulum.
Iain M. Banks
Books include: Excession, Inversions and Feersum Enjinn.
J.R.R Tolkien
Books include: The Lord of the Rings, The Hobbit and Childen of Hurin.
James Herbert
Books Include: The Secrets of Crickley Hall, The Fog and the The Rats.
Hannibal Series
Books include Silence of the Lambs, Red Dragon and Hannibal.
Michael Crichton
Books include: Jurassic Park, State of Fear and Andromeda Strain.
Terry Pratchett
Books include: The Discworld Series, The Long Earth Series and the Johnny Maxwell Series.
Rachel Caine
Rachel is the author of: The Morganville Vampires series.

Lord of the Rings
Books include The Fellowship of the Ring, and The Return of the King.
Stephen Baxter
Books include: Flood, and Proxima.
Raymond E. Feist
Books include: The Dark War Series, The Chaoswar Saga and the Serpentwar Saga.
Stephen King
Books Include: The The Shining, Christine and the Dark Tower Series.

True Blood
Books include: Dead Until Dark, Dead Ever After and Deadlocked.
Science Fiction, Fantasy & Horror
Popular Series
New & Noteworthy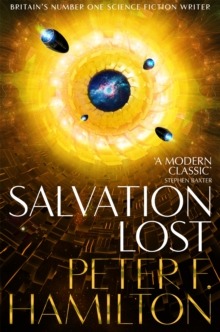 Humanity rises to meet a powerful alien threat, in this extraordinary sequel to Peter F.
Hamilton's Salvation. This is a high-octane adventure from 'the most powerful imagination in science fiction' (Ken Follett).
Fight together - or die alone . . . In the twenty-third century, humanity is enjoying a comparative utopia.
Yet life on Earth is about to change, forever. Feriton Kane's investigative...
Bestselling in Science Fiction
|
See more