Action & Adventure DVD & Blu-ray
Here we are proud to showcase DVD and Blu-ray titles from one of our most popular movie genres. You'll find all the bestselling films from new releases to our back catalogue of classics, all on DVD and blu-ray. From fun children's adventure films to those edge-of-your-seat action box office hits and everything in between.
Bestselling Action & Adventure Films
Explore more Action & Adventure DVD and Blu-ray
Browse Popular Action & Adventure Movies and TV Series
Action & Adventure
Features
Recently Released Bestseller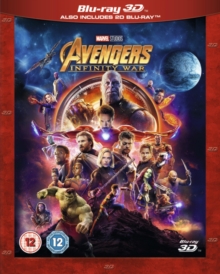 Robert Downey Jr, Chris Hemsworth, Mark Ruffalo, Chris Evans and Chris Pratt reprise their roles as the Marvel superheroes in this action sequel directed by Anthony and Joe Russo.
With the future of the universe coming under threat from the powerful Thanos (Josh Brolin), the Avengers and their allies must join together and put their lives on the line as they bid to put a stop to Thanos's evil...
Coming Soon