Action & Adventure DVD & Blu-ray
Here we are proud to showcase DVD and Blu-ray titles from one of our most popular movie genres. You'll find all the bestselling films from new releases to our back catalogue of classics, all on DVD and blu-ray. From fun children's adventure films to those edge-of-your-seat action box office hits and everything in between.
Bestselling Action & Adventure Films
Explore more Action & Adventure DVD and Blu-ray
Browse Popular Action & Adventure Movies and TV Series
Action & Adventure
Features
Recently Released Bestseller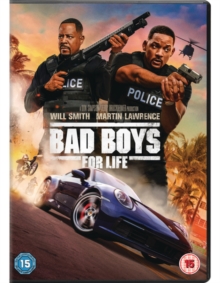 Will Smith and Martin Lawrence reprise their roles as Mike Lowrey (Smith) and Marcus Burnett (Lawrence) in the third instalment of the action comedy trilogy.
As Mike and Marcus prepare to start taking things easy as age catches up with them, an old enemy threatens to destroy their peaceful descent into retirement.
With Mike assigned to the A.M.M.O department and Marcus now an inspector, they must...
Coming Soon