Science Fiction DVD & Blu-ray
Explore the depths of space and time with our selection of Science Fiction DVD and Blu-ray. Explore space with huge TV shows and blockbuster movies in the Star Trek series, travel in time with Doctor Who and find out the truth with Mulder and Scully in X-Files.
If you are looking for some movies to get lost in, we have a massive range to entertain. Take a browse, and hopefully you will discover something new!
Bestselling Science Fiction DVDs
|
View All
Browse by Popular Series
Science Fiction DVD & Blu-ray
Featured
Recently Released Bestseller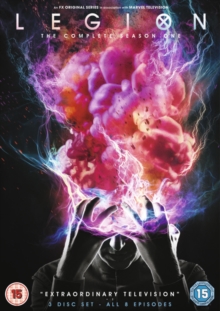 All eight episodes from the first season of the sci-fi thriller based on the Marvel Comics character Legion.
David Haller (Dan Stevens) was diagnosed as a young boy with schizophrenia and spent his life in psychiatric hospitals.
While a patient at Clockworks Hospital, David has an encounter with Sydney Barrett (Rachel Keller), a young girl with mutant powers, who suggests to him that he might not...
Top Sci-fi Releases