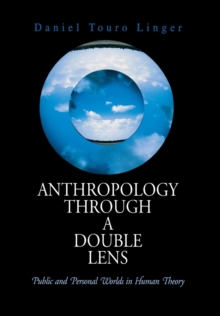 Anthropology Through a Double Lens : Public and Personal Worlds in Human Theory
Hardback
Description
How can we hold both public and personal worlds in the eye of a unified theory of meaning?
What ethnographic and theoretical possibilities do we create in the balance?
Anthropology Through a Double Lens offers a theoretical framework encompassing both of these domains-a "double lens." Daniel Touro Linger argues that the literary turn in anthropology, which treats culture as text, has been a wrong turn.
Cultural analysis of the interpretive or discursive variety, which focuses on public symbols, has difficulty seeing-much less dealing convincingly with-actual persons.
While emphasizing the importance of social environments, Linger insists on equal sensitivity to the experiential immediacies of human lives.
He develops a sustained critique of interpretive and discursive trends in contemporary anthropology, which have too strongly emphasized social determinism and public symbols while too readily dismissing psychological and biographical realities. Anthropology Through a Double Lens demonstrates the power of an alternative dual perspective through a blend of critical essays and ethnographic studies drawn from the author's field research in Sao Luis, a northeastern Brazilian state capital, and Toyota City, a Japanese factory town.
To span the gap between the public and the personal, Linger provides a set of analytical tools that include the ideas of an arena of meaning, systems of systems, bridging theory, singular lives, and reflective consciousness.
The tools open theoretical and ethnographic horizons for exploring the process of meaning-making, the force of symbolism and rhetoric, the politics of representation, and the propagation and formation of identities.
Linger uses these tools to focus on key issues in current theoretical and philosophical debates across a host of disciplines, including anthropology, psychology, history, and the other human sciences.
Information
Format: Hardback
Pages: 248 pages, 9 illus.
Publisher: University of Pennsylvania Press
Publication Date: 07/02/2005
Category: Anthropology
ISBN: 9780812238570
Free Home Delivery
on all orders
Pick up orders
from local bookshops